---
hello everyone! it's March, which means it's officially Reading Ireland month!!! every year Cathy from Cathy746Books hosts Reading Ireland Month to celebrate all things Irish, and given how much I love Irish fiction/books in general, it was a total no-brainer for me to join in. There are weekly topics and lots of information in Cathy's post, so definitely check it out if you're interested!
This week the topic is "My Top Five Irish…," so I thought I'd talk about my top Irish fiction titles (and one non-fiction one). I couldn't limit it to five, though, so I have nine here instead lol. ¯\_(ツ)_/¯ I just love Irish fiction so much, and I wanted to dedicate this post to some of my favourite Irish books that I've read over the last couple of years.
---
THE BOOKS
Tender by Belinda McKeon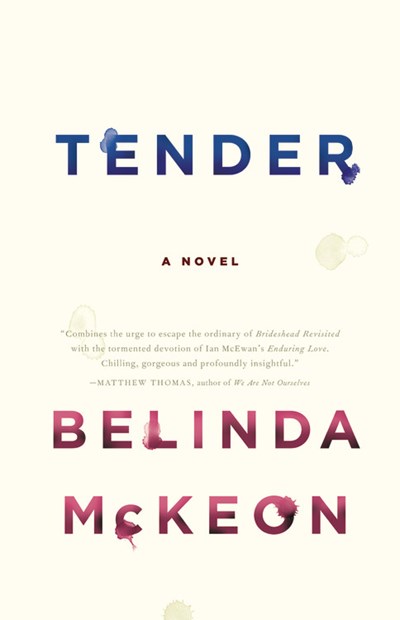 A searing novel about longing, intimacy and obsession from the award-winning author of Solace.

When they meet in Dublin in the late nineties, Catherine and James become close as two friends can be. She is a sheltered college student, he an adventurous, charismatic young artist. In a city brimming with possibilities, he spurs her to take life on with gusto. But as Catherine opens herself to new experiences, James's life becomes a prison; as changed as the new Ireland may be, it is still not a place in which he feels able to truly be himself. Catherine, grateful to James and worried for him, desperately wants to help — but as time moves on, and as life begins to take the friends in different directions, she discovers that there is a perilously fine line between helping someone and hurting them further. When crisis hits, Catherine finds herself at the mercy of feelings she cannot control, leading her to jeopardize all she holds dear.

By turns exhilarating and devastating, Tender is a dazzling exploration of human relationships, of the lies we tell ourselves and the lies we are taught to tell. It is the story of first love and lost innocence, of discovery and betrayal. A tense high-wire act with keen psychological insights, this daring novel confirms McKeon as a major voice in contemporary fiction, belonging alongside the masterful Edna O'Brien and Anne Enright.
I feel like I've already talked about this novel a lot on my blog, but it's SO underrated and I would really love for more people to read it. This is a beautifully written novel about a complex friendship and an unrequited love. It's also a campus novel, interweaving a lot of insights from literature and poetry into its narrative. I loved it so much–it's just one of those novels that I think about all the time, years on from when I first read it.
---
The Glorious Heresies by Lisa McInerney
One messy murder affects the lives of five misfits who exist on the fringes of Ireland's post-crash society. Ryan is a fifteen-year-old drug dealer desperate not to turn out like his alcoholic father Tony, whose obsession with his unhinged next-door neighbour threatens to ruin him and his family. Georgie is a prostitute whose willingness to feign a religious conversion has dangerous repercussions, while Maureen, the accidental murderer, has returned to Cork after forty years in exile to discover that Jimmy, the son she was forced to give up years before, has grown into the most fearsome gangster in the city. In seeking atonement for the murder and a multitude of other perceived sins, Maureen threatens to destroy everything her son has worked so hard for, while her actions risk bringing the intertwined lives of the Irish underworld into the spotlight . .

Biting, moving and darkly funny, The Glorious Heresies explores salvation, shame and the legacy of Ireland's twentieth-century attitudes to sex and family.
The Glorious Heresies is hands down one of my all time favourite novels ever. I can't even begin to tell you how good this book is. Lisa McInerney is such a master of narrative voice and dialogue; Ryan, who is the central character of this book (and the two subsequent ones in the trilogy), is genuinely one of the most well-developed and fascinating characters I've ever read about. Only McInerney can write a book like this that is funny and devastating by turns.
---
The Wild Laughter by Caoilinn Hughes
It's 2008, and the Celtic Tiger has left devastation in its wake. Brothers Hart and Cormac Black are waking up to a very different Ireland – one that widens the chasm between them and brings their beloved father to his knees. Facing a devastating choice that risks their livelihood, if not their lives, their biggest danger comes when there is nothing to lose.

A sharp snapshot of a family and a nation suddenly unmoored, this epic-in-miniature explores cowardice and sacrifice, faith rewarded and abandoned, the stories we tell ourselves and the ones we resist. Hilarious, poignant and utterly fresh, The Wild Laughter cements Caoilinn Hughes' position as one of Ireland's most audacious, nuanced and insightful young writers.
If you're looking for a short novel that packs a punch, then I can't recommend The Wild Laughter enough. I knew I was gonna love this book literally two pages into it, and I was not wrong. Caoilinn Hughes is a poet, and you can really tell that from the language in this book, which is just gorgeous. Like The Glorious Heresies, this novel is also a character study of a young man during a particular historical moment in Ireland–the years of the Celtic Tiger–and a very moving and well done one at that.
---
Sweet Home by Wendy Erskine
A reclusive cult-rock icon ends his days in the street where he was born; a lonely woman is fascinated by her niqab-wearing neighbours; a husband and wife become enmeshed in the lives of the young couple they pay to do their cleaning and gardening.

Set in contemporary East Belfast, these eleven acutely observed short stories come charged with regret and sorrow, desire and yearning. With clear-eyed compassion and wry humour, Wendy Erskine deftly lays bare her characters' struggle to maintain control in an often cruel world, where tragic events cast long shadows. Sweet Home by Wendy Erskine heralds the arrival of a wonderfully compelling and truly distinctive voice from Northern Ireland.
Another book that I feel like I've talked about a lot, but it deserves so much more hype!! Sweet Home is a short story collection with such disquieting, punchy stories. As with Tender, I read this collection a few years ago, and I can still remember so many of its stories.
---
Milkman by Anna Burns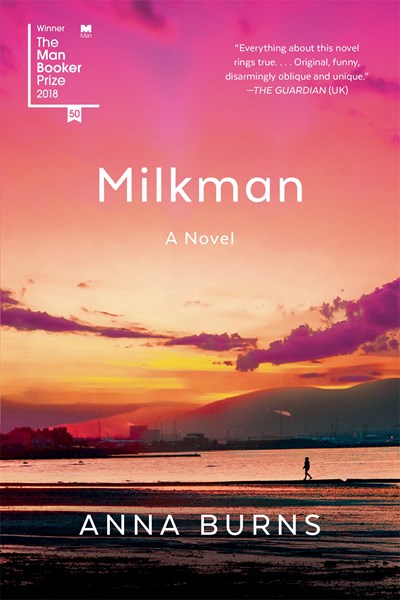 In this unnamed city, to be interesting is dangerous. Middle sister, our protagonist, is busy attempting to keep her mother from discovering her maybe-boyfriend and to keep everyone in the dark about her encounter with Milkman. But when first brother-in-law sniffs out her struggle, and rumours start to swell, middle sister becomes 'interesting'. The last thing she ever wanted to be. To be interesting is to be noticed and to be noticed is dangerous

Milkman is a tale of gossip and hearsay, silence and deliberate deafness. It is the story of inaction with enormous consequences.
What can I say about this novel that hasn't been said already? I mean, it won the Booker Prize, and it absolutely deserved that win. Milkman is just a masterpiece of a novel. It's truly unlike anything I've ever read: unsettling, mordant, and incredibly sweeping. It's so immersive, so deftly written, that finishing it feels like coming up for air.
---
Show Them a Good Time by Nicole Flattery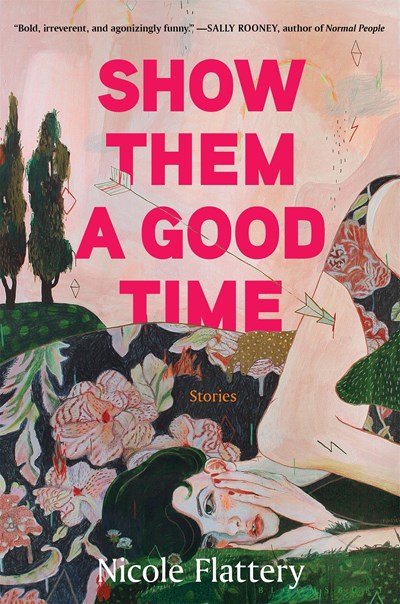 A blisteringly original and wickedly funny collection of stories about the strange worlds that women inhabit and the parts that they must play.

A sense of otherworldly menace is at work in the fiction of Nicole Flattery, but the threats are all too familiar. SHOW THEM A GOOD TIME tells the stories of women slotted away into restrictive roles: the celebrity's girlfriend, the widower's second wife, the lecherous professor's student, the corporate employee. And yet, the genius of Flattery's characters is to blithely demolish the boundaries of these limited and limiting social types with immense complexity and caustic intelligence. Nicole Flattery's women are too ferociously mordant, too painfully funny to remain in their places.

In this fiercely original and blazingly brilliant debut, Flattery likewise deconstructs the conventions of genre to serve up strange realities: In Not the End Yet, Flattery probes the hilarious and wrenching ambivalence of Internet dating as the apocalypse nears; in Sweet Talk, the mysterious disappearance of a number of local women sets the scene for a young girl to confront the dangerous uncertainties of her own sexuality; in this collection's center piece, Abortion, A Love Story, two college students in a dystopian campus reconfigure the perilous stories of their bodies in a fraught academic culture to offer a subversive, alarming, and wickedly funny play that takes over their own offstage lives. And yet, however surreal or richly imagined the setting, Flattery always shows us these strange worlds from startlingly unexpected angles, through an unforgettable cast of brutally honest, darkly hilarious women and girls.

Like the stories of Mary Gaitskill, Miranda July, Lorrie Moore, Joy Williams, and Ottessa Moshfegh, SHOW THEM A GOOD TIME is the work of a profoundly resonant and revelatory literary voice – at once spiky, humane, achingly hilarious– that is sure to echo through the literary culture for decades to come.
This short story collection is so much better than its 3.34 average rating on Goodreads would you to believe!! It's no secret that I'm not a big fan of Disaster/Dysfunctional/Depressed/Sad Woman books, which have become even more popular since I first wrote about them 2 years ago. HOWEVER, Show Them a Good Time is one of the few exceptions that I've loved. The stories in this collection are so sharp and perceptive, the kind of stories whose every word feels like it's been carefully considered and chosen. If you've enjoyed Irish authors who have published their short stories in the Stinging Fly–John Patrick McHugh, Wendy Erskine, Colin Barrett–then I think you'd really enjoy this.
---
The Pull of the Stars by Emma Donoghue
In an Ireland doubly ravaged by war and disease, Nurse Julia Power works at an understaffed hospital in the city center, where expectant mothers who have come down with the terrible new Flu are quarantined together. Into Julia's regimented world step two outsiders—Doctor Kathleen Lynn, a rumoured Rebel on the run from the police, and a young volunteer helper, Bridie Sweeney.

In the darkness and intensity of this tiny ward, over three days, these women change each other's lives in unexpected ways. They lose patients to this baffling pandemic, but they also shepherd new life into a fearful world. With tireless tenderness and humanity, carers and mothers alike somehow do their impossible work.

In The Pull of the Stars, Emma Donoghue once again finds the light in the darkness in this new classic of hope and survival against all odds.
This was such an unexpected favourite of mine from last year. I really did not want to read it because it was about a pandemic, but all the positive reviews won me over so I decided to give it a go on audiobook. And I just loved it. It's a very small story in terms of its scope: most of it takes place in a cramped maternity ward, and the story itself only spans the course of a couple of days. But the way Donoghue writes it is so moving; she renders the social and historical aspects of the setting with real deft and precision, and I think that's what ultimately makes this book so memorable.
---
Homesickness by Colin Barrett
So I'm kind of cheating with this one because it's not even out yet (it comes out on May 3 in North America and March 10 in the UK), but I still wanted to include it because I enjoyed it so much. I read Barrett's first short story collection, Young Skins, a couple of years ago and didn't think much of it, but decided to give him another chance with this one and I'm so glad I did! What stands out to me most about this collection is Barrett's writing style, which is so punchy and playful. I don't want to say too much about this since I already have a full review of it coming, but suffice it to say I highly recommend you check this one out when it comes out later this year.
---
Constellations by Sinéad Gleeson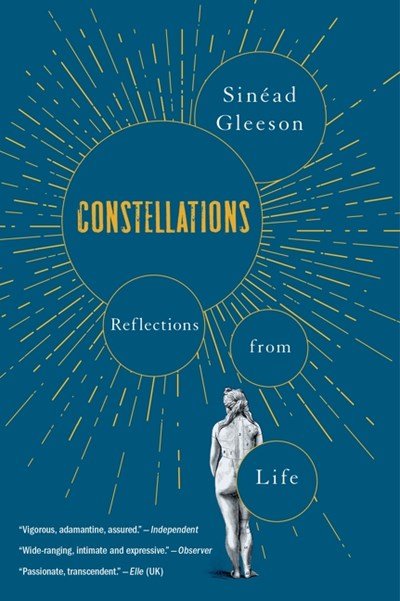 I have come to think of all the metal in my body as artificial stars, glistening beneath the skin, a constellation of old and new metal. A map, a tracing of connections and a guide to looking at things from different angles.

How do you tell the story of life that is no one thing? How do you tell the story of a life in a body, as it goes through sickness, health, motherhood? And how do you tell that story when you are not just a woman but a woman in Ireland? In these powerful and daring essays, Sinead Gleeson does that very thing. In doing so she delves into a range of subjects: art, illness, ghosts, grief, and our very ways of seeing. In writing that is in tradition of some of our finest writers such as Olivia Laing, Maggie O'Farrell, and Maggie Nelson, and yet still in her own spirited, warm voice, Gleeson takes us on a journey that is both personal and yet universal in its resonance.
And finally, we have Constellations, which is not a fiction title, but one that I just couldn't not include in this list. I've talked about this book before in my post about essay collections, but I wanted to talk about it again because it's such an exquisite piece of writing. I don't know how much more I can rave about this book at this point, other than to say that it's just so damn good. Beautifully written, and exploring so many themes and topics with such grace and insight.
---
Et voilà! those are all the Irish titles I have for today! let me know if you've read any of these books, and what you thought about them. I would also love to know if here are any other Irish books that you've read that you think I might like!! ☺️
---
Blog | Goodreads | Twitter | Instagram