---
Hello everyone! It's time for my absolutely massive most anticipated books of 2022 list!!!!! THERE ARE MORE THAN 60 BOOKS IN THIS LIST!!! And there are so many different kinds of books here, too: literary fiction, short story collections, historical fiction, translated fiction (from Ukraine, Japan, Korea, Denmark, Spain, and France), magical realism/fabulism, romance, fantasy, and nonfiction (essays, memoirs). I've also tried my best to look for titles from both familiar and new-to-me indie presses (Grove Press, Graywolf Press, Counterpoint, Peepal Tree Press, Daunt Books), so hopefully you'll find some books you haven't heard about from this list! Also this list pretty much only includes books that release from January to August, since publishers' fall 2022 catalogues aren't out till later on in the year.
PS: all release dates are North American, with a few exceptions, which I've noted with an asterisk next to the release date.
---
LITERARY FICTION +
HISTORICAL FICTION
Luckenbooth by Jenni Fagan (January 4)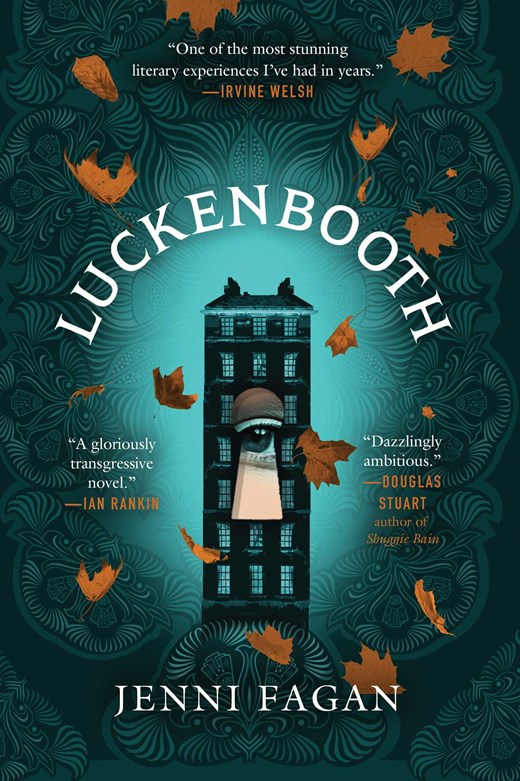 A bold, haunting, and startlingly unique novel about the secrets we leave behind and the places that hold them long after we are gone, a "quintessential novel of Edinburgh at its darkest." (Irvine Welsh)
There are stories tucked away on every floor of 10 Luckenbooth Close.
1910, Edinburgh. Jessie MacRae has been sent to a tenement building by her recently deceased father to bear a child for a wealthy man and his fiancée. The harrowing events that follow lead to a curse on the building and its residents—a curse that will last for the rest of the century.
Over nine decades, 10 Luckenbooth Close bears witness to emblems of a changing world outside its walls. An infamous madam, a spy, a famous Beat poet, a coal miner who fears daylight, a psychic: these are some of the residents whose lives are plagued by the building's troubled history in disparate, sometimes chilling ways. The curse creeps up the nine floors as an enraged spirit world swells to the surface, desperate for the true horror of the building's longest kept secret to be heard.
Luckenbooth is a bold, haunting, and dazzlingly unique novel about the stories and secrets we leave behind—and the places that hold them long after we are gone.
---
The Raptures by Jan Carson (January 6)*
When several children from the same village start succumbing to a mysterious illness, the quest to discover the cause has devastating and extraordinary consequences.
It is late June in Ballylack. Hannah Adger anticipates eight long weeks' reprieve from school, but when her classmate Ross succumbs to a violent and mysterious illness, it marks the beginning of a summer like no other.
As others fall ill, questions about what – or who – is responsible pitch the village into conflict and fearful disarray. Hannah, ever the outsider, is haunted by guilt as she remains healthy while her friends are struck down. Isolated and afraid, she prays for help. What happens next will force her to question everything she believes.
Bursting with Carson's trademark wit, profound empathy and soaring imagination, The Raptures explores how tragedy can unite a small community – and tear it apart. At its heart is the extraordinary resilience of one young girl. As the world crumbles around her, she must find the courage to be different in a place where conforming feels like the only option available.
---
This Hostel Life by Melatu Uche Okrie (January 11)
THIS HOSTEL LIFE tells the stories of migrant women in a hidden Ireland.
Queuing for basic supplies in an Irish direct provision hostel, a group of women squabble and mistrust each other, learning what they can of the world from conversations about reality television and Shakespeare. In another story, a student shares her work with a class only to be critiqued about her own lived experience, and a mother of young twins, living in Nigeria, is at risk of losing her newborns to ancient superstitious beliefs.
---
Manywhere by Morgan Thomas (January 24)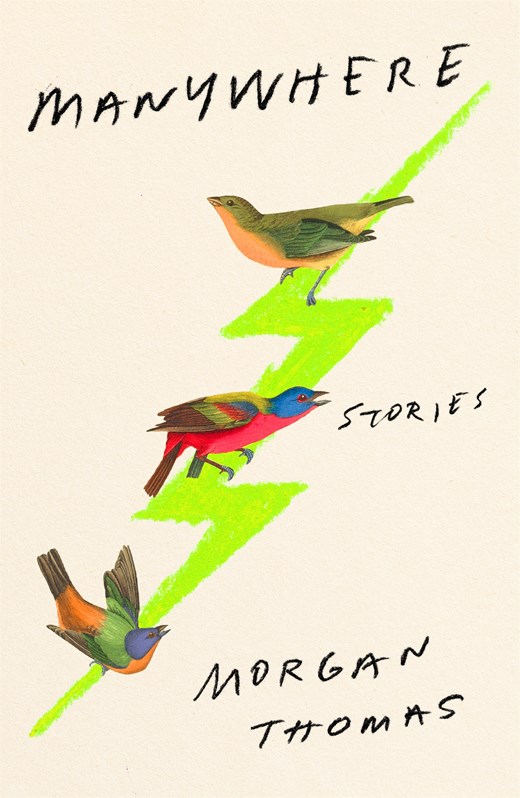 Lush and uncompromising stories about characters crossing geographical borders and gender binaries.
The nine stories in Morgan Thomas's shimmering debut collection witness Southern queer and genderqueer characters determined to find themselves reflected in the annals of history, whatever the cost. As Thomas's subjects trace deceit and violence through Southern tall tales and their own pasts, their journeys reveal the porous boundaries of body, land, and history, and the sometimes ruthless awakenings of self-discovery.

A trans woman finds her independence with the purchase of a pregnancy bump; a young Virginian flees their relationship, choosing instead to immerse themself in the life of an intersex person from Colonial-era Jamestown. A writer tries to evade the murky and violent legacy of an ancestor who supposedly disappeared into a midwifery bag, and in the uncanny title story, a young trans person brings home a replacement daughter for their elderly father.

Winding between reinvention and remembrance, transition and transcendence, these origin stories resound across centuries. With warm, meticulous emotional intelligence, Morgan Thomas uncovers how the stories we borrow to understand ourselves in turn shape the people we become. Ushering in a new form of queer mythmaking, Manywhere introduces a storyteller of uncommon range and talent.
---
The Employees by Olga Ravn (tr. Martin Aitken) (February 1)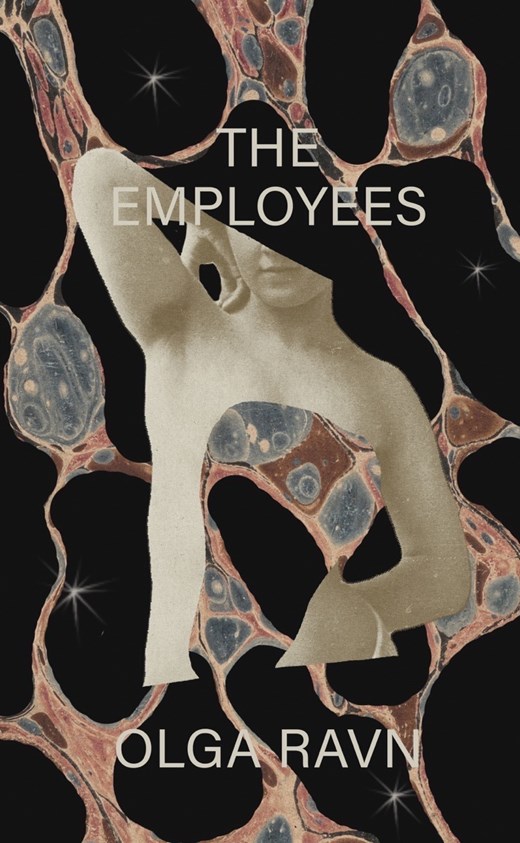 Shortlisted for the International Booker prize, The Employees reshuffles a sci-fi voyage into a riotously original existential nightmare
Funny and doom-drenched, The Employees chronicles the fate of the Six-Thousand Ship. The human and humanoid crew members complain about their daily tasks in a series of staff reports and memos. When the ship takes on a number of strange objects from the planet New Discovery, the crew becomes strangely and deeply attached to them, even as tensions boil toward mutiny, especially among the humanoids.
Olga Ravn's prose is chilling, crackling, exhilarating, and foreboding. The Employees probes into what makes us human, while delivering a hilariously stinging critique of life governed by the logic of productivity.
---
Devotion by Hannah Kent (February 3)*
1836, Prussia. Hanne is nearly fifteen and the domestic world of womanhood is quickly closing in on her. A child of nature, she yearns instead for the rush of the river, the wind dancing around her. Hanne finds little comfort in the local girls and friendship doesn't come easily, until she meets Thea and she finds in her a kindred spirit and finally, acceptance.

Hanne's family are Old Lutherans, and in her small village hushed worship is done secretly – this is a community under threat. But when they are granted safe passage to Australia, the community rejoices: at last a place they can pray without fear, a permanent home. Freedom.

It's a promise of freedom that will have devastating consequences for Hanne and Thea, but, on that long and brutal journey, their bond proves too strong for even nature to break . . .
---
Lucky Breaks by Yevgenia Belorusets (tr. Eugene Ostashevsky) (March 1)
Powerful, off-beat stories about women living in the shadow of the now-frozen, now-thawing war in Ukraine
Out of the impoverished coal regions of Ukraine known as the Donbass, where Russian secret military intervention coexists with banditry and insurgency, the women of Yevgenia Belorusets's captivating collection of stories emerge from the ruins of a war, still being waged on and off, ever since the 2014 Revolution of Dignity. Through a series of unexpected encounters, we are pulled into the ordinary lives of these anonymous women: a florist, a cosmetologist, card players, readers of horoscopes, the unemployed, and a witch who catches newborns with a mitt. One refugee tries unsuccessfully to leave her broken umbrella behind as if it were a sick relative; a private caregiver in a disputed zone saves her elderly charge from the angel of death; a woman sits down on International Women's Day and can no longer stand up; a soldier decides to marry war. Belorusets threads these tales of ebullient survival with a mix of humor, verisimilitude, the undramatic, and a profound Gogolian irony. She also weaves in twenty-three photographs that, in lyrical and historical counterpoint, form their own remarkable visual narrative.
---
The Book of Queens by Joumana Haddad (March 8)
A book of history, heritage, loyalty, religion, feminism, families, and the Armenian genocide
The Book of Queens is a family saga that spans four generations of women caught up in the tragic whirlwind of turf wars and suffering in the Middle East—from the Armenian genocide and the Israeli occupation of Palestine to modern-day civil wars and the struggles between Christians and Muslims in Lebanon and Syria.
Four queens of a deck of cards dealt a bad hand by fate—Qayah, Qana, Qadar and Qamar—form the branches of the same family tree rooted in the land of their origins despite the forceful winds that repeatedly try to carry them away. A line of red-haired women united by the ties of blood that runs through their veins—which violence has spread through the ages—each with a deep story and all with one thing in common: unwavering power and resilience in the face of adversities of being a woman in a war-torn region.
With the perfect mastery of finely chiseled writing, Joumana Haddad manages to construct a novel of extraordinary intensity, without ever sinking into pathos or grandiloquence. She also challenges the systematic abuse of political and religious power and authority that continues to cloud the lives of a culturally diverse and progressive youth until the present day.
---
Vagabonds by Eloghosa Osunde (March 15)
In the bustling streets and cloistered homes of Lagos, a cast of vivid characters—some haunted, some defiant—navigate danger, demons, and love in a quest to lead true lives.
In Nigeria, vagabonds are those whose existence is literally outlawed: the poor, the queer, the drivers and dancers, the abused and displaced and vulnerable. Eloghosa Osunde's brave, fiercely inventive novel traces a wild array of characters for whom life itself is a form of resistance: a driver for a debauched politician with the power to command life and death; a legendary fashion designer who gives birth to a grown daughter; a lesbian couple whose tender relationship sheds unexpected light on their BDSM work; a wife and mother who attends a secret spiritual gathering that promises to afford her escape from her violent husband. As their lives intertwine—in bustling markets and underground clubs, churches and hotel rooms—the vagabonds are seized and challenged by spirits who command the city's dark energy. Whether running from danger, meeting with secret lovers, finding their identities, or vanquishing their demons, Osunde's characters confront and support one another, before converging one night for the once-in-a-lifetime gathering that gives the book its unexpectedly joyous conclusion.
Blending unvarnished realism with myth and fantasy, Vagabonds! is a vital work of imagination that takes us deep inside the hearts, minds, and bodies of a people in duress—and in triumph.
---
When We Were Birds by Ayanna Lloyd Banwo (March 15)
A mythic love story set in Trinidad, Ayanna Lloyd Banwo's radiant debut introduces two unforgettable outsiders brought together by their connection with the dead.
In the old house on a hill, where the city meets the rainforest, Yejide's mother is dying. She is leaving behind a legacy that now passes to Yejide: one St Bernard woman in every generation has the power to shepherd the city's souls into the afterlife. But after years of suffering her mother's neglect and bitterness, Yejide is looking for a way out.
Raised in the countryside by a devout Rastafarian mother, Darwin has always abided by the religious commandment not to interact with death. He has never been to a funeral, much less seen a dead body. But when the only job he can find is grave digging, he must betray the life his mother built for him in order to provide for them both. Newly shorn of his dreadlocks and his past, and determined to prove himself, Darwin finds himself adrift in a city electric with possibility and danger.
Yejide and Darwin will meet inside the gates of Fidelis, an ancient and sprawling cemetery, where the dead lie uneasy in their graves and a reckoning with fate beckons them both. A masterwork of lush imagination and exuberant storytelling, When We Were Birds is a spellbinding and hopeful novel about inheritance, loss, and love's seismic power to heal.
---
The Town of Babylon by Alejandro Varela (March 22)
A debut novel about domestic malaise and suburban decline, following Andrés, a gay Latinx professor, returning to his hometown for a twenty-year high school reunion.
When his father falls ill, Andrés, a professor of public health, returns to his suburban hometown to tend to his father's recovery. Reevaluating his rocky marriage in the wake of his husband's infidelity and with little else to do, he decides to attend his twenty-year high school reunion, where he runs into the long-lost characters of his youth.
Jeremy, his first love, is now married with two children after having been incarcerated and recovering from addiction. Paul, who Andrés has long suspected of having killed a man in a homophobic attack, is now an Evangelical minister and father of five. And Simone, Andrés's best friend, is in a psychiatric institution following a diagnosis of schizophrenia. During this short stay, Andrés confronts these relationships, the death of his brother, and the many sacrifices his parents made to offer him a better life.
A novel about the essential nature of community in maintaining one's own health, The Town of Babylon is an intimate portrait of queer, racial, and class identity, a call to reevaluate the ties of societal bonds and the systems in which they are forged.
---
Easy Reading by Cristina Morales (tr. Kevin Gerry Dunn) (March 24)*
An explosive and daring novel about bodies, sex, politics and disability by the prize-winning Spanish writer Cristina Morales

Ángela, Patricia, Marga and Nati are cousins living together in Barcelona. As women branded as disabled who share a state-subsidised flat, they must fight every day to retain their independence and find new and inventive ways – from dance to underground zines – to stop the state from managing every aspect of their lives.

Funny and furious, Easy Reading is an indictment of the institutions that stigmatise individuals as disabled and of the language that marginalises them. It is also a portrait – visceral, vibrant, combative – of contemporary Barcelona. But, above all, Easy Reading is a feminist celebration of the body in all its forms, of female desire and queer sexuality, and of the transgressive and revolutionary power of language.
---
If an Egyptian Cannot Speak English by Noor Naga (April 5)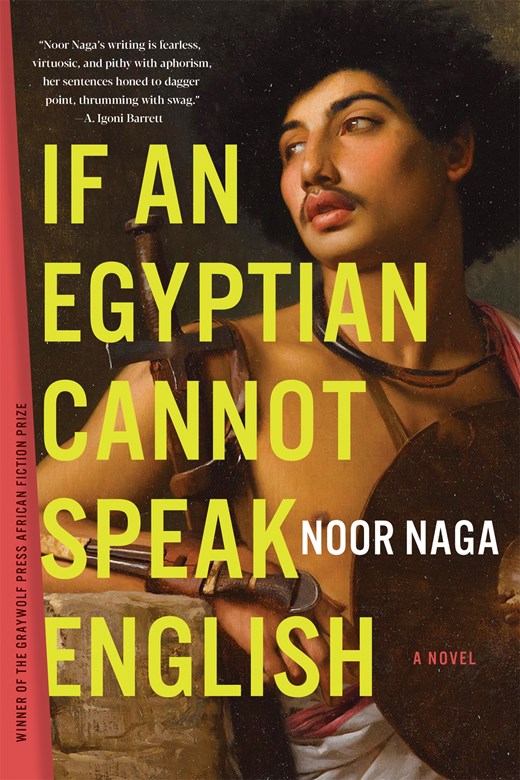 Winner of the Graywolf Press African Fiction Prize, a lush experimental novel about love as a weapon of empire.
In the aftermath of the Arab Spring, an Egyptian American woman and a man from the village of Shobrakheit meet at a café in Cairo. He was a photographer of the revolution, but now finds himself unemployed and addicted to cocaine, living in a rooftop shack. She is a nostalgic daughter of immigrants "returning" to a country she's never been to before, teaching English and living in a light-filled flat with balconies on all sides. They fall in love and he moves in. But soon their desire—for one another, for the selves they want to become through the other—takes a violent turn that neither of them expected.

A dark romance exposing the gaps in American identity politics, especially when exported overseas, If an Egyptian Cannot Speak English is at once ravishing and wry, scathing and tender. Told in alternating perspectives, Noor Naga's experimental debut examines the ethics of fetishizing the homeland and punishing the beloved . . . and vice versa. In our globalized twenty-first-century world, what are the new faces (and races) of empire? When the revolution fails, how long can someone survive the disappointment? Who suffers and, more crucially, who gets to tell about it?
---
True Biz by Sara Novic (April 5)
A transporting novel that follows a year of seismic romantic, political, and familial shifts for a teacher and her students at a boarding school for the deaf, from the acclaimed author of Girl at War
True biz (adj/exclamation; American Sign Language): really, seriously, definitely, real-talk
True biz? The students at the River Valley School for the Deaf just want to hook up, pass their history final, and have doctors, politicians, and their parents stop telling them what to do with their bodies. This revelatory novel plunges readers into the halls of a residential school for the deaf, where they'll meet Charlie, a rebellious transfer student who's never met another deaf person before; Austin, the school's golden boy, whose world is rocked when his baby sister is born hearing; and February, the headmistress, who is fighting to keep her school open and her marriage intact, but might not be able to do both. As a series of crises both personal and political threaten to unravel each of them, Charlie, Austin, and February find their lives inextricable from one another—and changed forever.
A story of sign language and lip-reading, disability and civil rights, isolation and injustice, first love and loss, and, above all, great persistence, daring, and joy, this is an unforgettable journey into the Deaf community and a universal celebration of human connection.
---
The Theatre of Marvels by Lianne Dillsworth (April 12)
Set amid the bustle of Victorian London, an irresistible story of an ambitious young Black actress, an orphan from the slums who has finally achieved a dubious stardom as "The Great Amazonia, a savage African queen"—but everything she has fought for depends on hiding the secret of her own identity
As an orphan in the slums of St. Giles, Zillah was determined never to become part of the notorious Blackbird gang. With nothing to rely on but her own wit, she convinces infamous producer Marcus Stratton to hire her for his variety show in nineteenth-century London. But the act Stratton has in mind for Zillah is as The Great Amazonia, "a savage queen from darkest Africa." His drunken audience laps this up, and as Zillah's star rises, Stratton makes clear, in no uncertain terms, that her survival depends on her true identity staying secret. This careful planning is upended when Zillah finds herself caught between the attention of a mysterious Black gentleman and Stratton's Viscount friend, who promises her the world. When another young Black woman in Stratton's employ goes missing, Zillah realizes she'll have to make a choice: follow her ambitions, or stay true to herself. Theatre of Marvels is a thrilling love story, a piercing commentary on a brutal racial history, and a delicious Victorian adventure.
---
Violets by Kyung-Sook Shin (tr. Anton Hur) (April 12)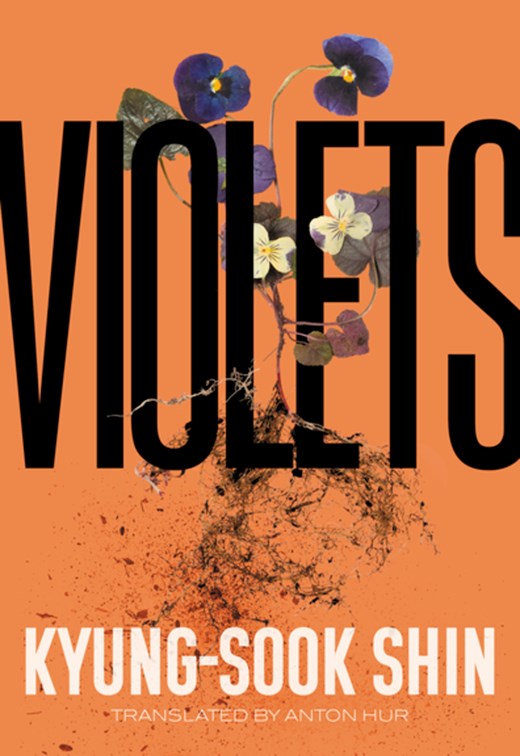 By Man Asian Literary Prize winner Kyung-Sook Shin, "a moving delve into a lonely psyche" that follows a neglected young woman's search for human connection in contemporary Seoul (YZ Chin).
San is twenty-two and alone when she happens upon a job at a flower shop in Seoul's bustling city center. Haunted by childhood rejection, she stumbles through life—painfully vulnerable, stifled, and unsure. She barely registers to others, especially by the ruthless standards of 1990s South Korea.
Over the course of one hazy, volatile summer, San meets a curious cast of characters: the nonspeaking shop owner, a brash coworker, quiet farmers, and aggressive customers. Fueled by a quiet desperation to jump-start her life, she plunges headfirst into obsession with a passing magazine photographer.
In Violets, best-selling author Kyung-Sook Shin explores misogyny, erasure, and repressed desire, as San desperately searches for both autonomy and attachment in the unforgiving reality of contemporary Korean society.
---
Concerning My Daughter by Kim Hye-Jin (tr. Jamie Chang) (April 14)*
When an ageing mother allows her thirty-something daughter to move into her apartment, she wants for her what many mothers might say they want for their child: a steady income, and, even better, a good husband with a good job with whom to start a family.

But when Green turns up with her girlfriend, Lane, in tow, her mother is unprepared and unwilling to welcome Lane into her home. In fact, she can barely bring herself to be civil. Having centred her life on her husband and child, her daughter's definition of family is not one she can accept. Her daughter's involvement in a case of unfair dismissal involving gay colleagues from the university where she works is similarly strange to her.

And yet when the care home where she works insists that she lower her standard of care for an elderly dementia patient who has no family, who travelled the world as a successful diplomat, who chose not to have children, Green's mother cannot accept it. Why should not having chosen a traditional life mean that your life is worth nothing at all?
---
Aue by Becky Manawatu (April 19)
WINNER OF THE JANN MEDLICOTT ACORN PRIZE FOR FICTION
WINNER OF THE MITOQ BEST FIRST BOOK OF FICTION
WINNER OF THE NGAIO MARSH AWARD FOR BEST CRIME NOVEL
auē
(verb) to cry, howl, groan, wail, bawl.
(interjection) expression of astonishment or distress.
Taukiri was born into sorrow. Auē can be heard in the sound of the sea he loves and hates, and in the music he draws out of the guitar that was his father's. It spills out of the gang violence that killed his father and sent his mother into hiding, and the shame he feels about abandoning his eight-year-old brother to a violent home.
But Taukiri's brother, Ārama, is braver than he looks, and he has a friend, and his friend has a dog, and the three of them together might just be strong enough to turn back the tide of sadness.
This bestselling multi-award winning–novel is both raw and sublime, introducing a compelling new voice in New Zealand fiction.
---
Maria, Maria and Other Stories by Marytza K. Rubio (April 26)
For fans of Kali Fajardo-Anstine and Lesley Nneka Arimah, a darkly funny and imaginative debut conjuring tales of Mexican American mystics and misfits.
"The first witch of the waters was born in Destruction. The moon named her Maria." From former PEN America Emerging Voices Fellow Marytza K. Rubio comes Maria, Maria, an inimitable collection set across the tropics and megacities of the Americas.
Readers will be enticed and infuriated as characters negotiate with nature to cast their desired ends—such as the enigmatic community college professor in "Brujeria for Beginners'; the disturbingly faithful widow in "Tijuca"; and the lonely little girl in "Burial," who awakens a sabretooth tiger. Brimming with sharp wit and ferocious female intuition, the book bubbles over into a novella of fantastical proportions—a "tropigoth" family drama set in a reimagined California micro-rainforest about the legacies of three Marias, possibly all Marias. Writing in prose so lush it threatens to creep off the page, Rubio emerges as a bold voice new voice in contemporary short fiction.
---
The Deadwood Encore by Kathleen Murray (April 28)*
A brilliantly inventive and witty novel about legacy and birthright from Kathleen Murray, Ireland's brightest new literary voice.
Frank Whelan is the seventh son of a seventh son, so by now should have inherited his father's legendary healing power, but still hasn't managed to graduate beyond small-time skin afflictions.
He already feels adrift when his twin, Bernie, reveals a life-changing decision that calls into question everything Frank thought he knew about his place in the family. And then he discovers his father had been keeping secrets of his own.
And so Frank turns to an unlikely source for guidance and finds himself on a quest for answers… from this world, and the next.
A boundlessly inventive novel about the past's hold over the present, set in an Irish community alive with old magic and extraordinary possibility, The Deadwood Encore is an electrifying debut from one of Ireland's most acclaimed short-fiction authors.
* * * * * *
I always thought it was fairly simple; you told a story through plain telling it, beginning, middle and end. Or if you had the talent maybe write it down with pen on paper. But I seen now there's many a road leading into a tale and out. I'm in the strange position of being the pen and the paper; the ink running through it; the eye catching it; the mind reanimating the flat black and white into a spectacle. Once you try and shape a story, it's like opening a door that'll revive the past and rouse a future. Forget about the present, it disappears. Hard to describe, even to myself, but there's some story needs to come out of all of this palaver. I thought I'd reached the end… thought that whatever happened or didn't, wasn't nothing to do with me anymore. Now I'm wondering is this the end of my own story or the start of someone else's? Or are we all tangled up in a middle that goes on and on?
---
Trust by Hernan Diaz (May 3)
From an award-winning chronicler of our nation's history and its legends comes his much-anticipated novel about wealth and talent, trust and intimacy, truth and perception.
Even through the roar and effervescence of the 1920s, everyone in New York has heard of Benjamin and Helen Rask. He is a legendary Wall Street tycoon; she is the brilliant daughter of eccentric aristocrats. Together, they have risen to the very top of a world of seemingly endless wealth. But the secrets around their affluence and grandeur excites gossip. Rumors about Benjamin's financial maneuvers and Helen's reclusiveness start to spread—all as a decade of excess and speculation draws to an end. At what cost have they acquired their immense fortune?
This is the mystery at the center of a successful 1938 novel entitled Bonds, which all of New York seems to have read. But it isn't the only version.
Hernan Diaz's Trust brilliantly puts the story of these characters into conversation with other accounts—and in tension with the life and perspective of a young woman bent on disentangling fact from fiction. The result is a novel that becomes more exhilarating and profound with each new layer and revelation. Provocative and propulsive, Trust engages the reader in a quest for the truth while confronting the reality-warping gravitational pull of money and how power often manipulates facts. An elegant, multifaceted epic that recovers the voices buried under the myths that justify our foundational inequality, Trust is a literary triumph with a beating heart and urgent stakes.
---
Homesickness by Colin Barrett (May 3)
The second book from the "exact and poetic" (New York Times) author of critical smash Young Skins, winner of the Rooney Prize for Irish Literature and a National Book Foundation 5 Under 35, Homesickness  is an emotionally resonant and wonderfully wry collection that follows the lives of outcasts, misfits, and malcontents from County Mayo to Canada.
When Colin Barrett's debut Young Skins published, it swept up several major literary awards, and, in both its linguistic originality and sharply drawn portraits of working-class Ireland, earned Barrett comparisons to Faulkner, Hardy, and Musil. Now, in a blistering follow-up collection, Barrett brings together eight character-driven stories, each showcasing his inimitably observant eye and darkly funny style.
A quiet night in a local pub is shattered by the arrival of a sword-wielding fugitive; a funeral party teeters on the edge of this world and the next, as ghosts simply won't lay in wake; a shooting sees a veteran policewoman confront the banality of her own existence; and an aspiring writer grapples with his father's cancer diagnosis and in his despair wreaks havoc on his mentor's life.
The second piece of fiction from a "lyrical and tough and smart" (Anne Enright) voice in contemporary Irish literature, Homesickness  marks Colin Barrett out as our most brilliantly original and captivating storyteller.
---
Asylum by Nina Shope (May 17)
Winner of the Dzanc Prize for Fiction

A work of brilliant and innovative historical fiction, Asylum delves into the disturbing and seductive relationship between a young hysteric named Augustine and renowned nineteenth-century French neurologist J.M. Charcot. As Charcot risks his career to investigate the controversial disease of hysteria, Augustine struggles to make him acknowledge their interdependence and shared desires—until a new lover, M., drives them all to the brink of fracture.
Drawing upon the medical photography, hypnotic states, and "grand demonstrations" that accompanied Charcot's research, Asylum traces the deterioration of the dynamic between doctor and patient as they transform from mutually entranced creators to jealous and spurned paramours, to fierce rivals, and finally to bitter enemies. Told in lyrical, feverish, and sometimes delirious prose, Nina Shope delivers a captivating narrative at the crossroads of Mary Shelley and Donna Tartt.
---
The Colony by Audrey Magee (May 17)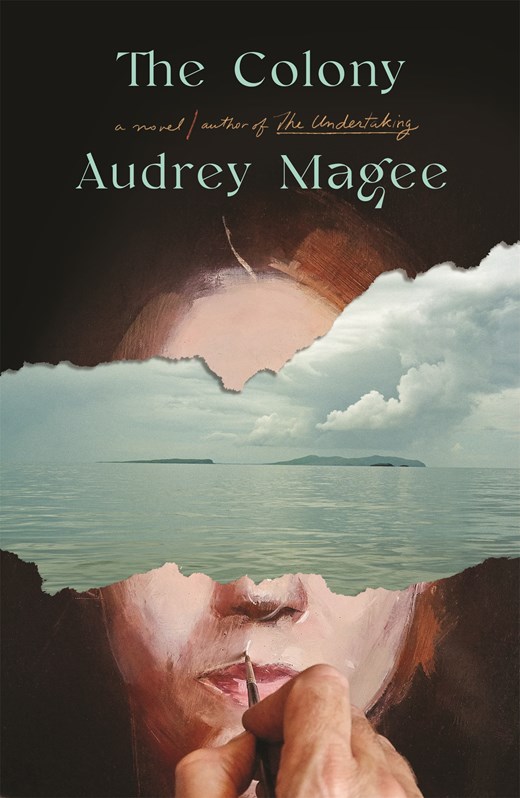 In 1979, as violence erupts all over Ireland, two outsiders travel to a small island off the west coast in search of their own answers, despite what it may cost the islanders.
It is the summer of 1979. An English painter travels to a small island off the west coast of Ireland. Mr. Lloyd takes the last leg by curragh, though boats with engines are available and he doesn't much like the sea. But he wants the authentic experience, to be changed by this place, to let its quiet and light fill him, give him room to create.

He doesn't know that a Frenchman follows close behind. Masson has visited the island for many years, studying their language. He is fiercely protective of their isolation; it is essential to exploring his theories of language preservation and identity.

But the people who live on this rock—three miles long and half a mile wide—have their own views on what is being recorded, what is being taken, and what ought to be given in return. Over the summer, each of them— from great-grandmother Bean Uí Fhloinn, to widowed Mairéad, to fifteen-year-old James, who is determined to avoid the life of a fisherman—will wrestle with their own values and desires. Meanwhile, all over Ireland, violence is erupting. And there is blame enough to go around.

An expertly woven portrait of character and place, a stirring investigation into yearning to find one's own way, and an unflinchingly political critique of the long, seething cost of imperialism, Audrey Magee's The Colony is a novel that transports, that celebrates beauty and connection, and that reckons with the inevitable ruptures of independence.
---
Either/Or by Elif Batuman (May 24)
From the acclaimed and bestselling author of The Idiot, the continuation of beloved protagonist Selin's quest for self-knowledge, as she travels abroad and tests the limits of her newfound adulthood
Selin is the luckiest person in her family: the only one who was born in America and got to go to Harvard. Now it's sophomore year, 1996, and Selin knows she has to make it count. The first order of business: to figure out the meaning of everything that happened over the summer. Why did Selin's elusive crush, Ivan, find her that job in the Hungarian countryside? What was up with all those other people in the Hungarian countryside? Why is Ivan's weird ex-girlfriend now trying to get in touch with Selin? On the plus side, it feels like the plot of an exciting novel. On the other hand, why do so many novels have crazy abandoned women in them? How does one live a life as interesting as a novel—a life worthy of becoming a novel—without becoming a crazy abandoned woman oneself?
Guided by her literature syllabus and by her more worldly and confident peers, Selin reaches certain conclusions about the universal importance of parties, alcohol, and sex, and resolves to execute them in practice—no matter what the cost. Next on the list: international travel.
Unfolding with the propulsive logic and intensity of youth, Either/Or is a landmark novel by one of our most brilliant writers. Hilarious, revelatory, and unforgettable, its gripping narrative will confront you with searching questions that persist long after the last page.
---
An Olive Grove in Ends by Moses McKenzie (May 31)
For readers of Zadie Smith and Marlon James, an electrifying literary debut about a young man's fraught decision: escape a dangerous past alone, or stay with the woman he loves, braving the pull of his old life's temptations
Sayon Hughes longs to escape the rough-and-tumble Bristol neighborhood of Ends, the tight-knit but sometimes lawless world he was raised in, and make a better life with Shona, the girl he's loved since grade school. With few paths out, he latches on to a job dealing drugs alongside his cousin, the unpredictable but fiercely loyal Cuba. Sayon is on the cusp of making a clean break for good when an altercation with a rival dealer turns deadly, upending his plans.

The fatal crime has an unexpected witness, Shona's father, a neighborhood pastor. In a misguided attempt to shelter his daughter, the minister threatens the young man with blackmail. Sayon's loyalties are torn. If Shona learns his secret, he will lose her forever. But if he doesn't escape from Ends now, he may never get another chance. Is it possible to break free of the bookies' tickets, the burnt spoons, and the crooked solutions, and still to keep the love of his life?

Crafted with linguistic bravado, Moses McKenzie's dazzling debut ripples with authenticity and originality. In its sheer lyrical power, An Olive Grove in Ends recalls the work of James Baldwin and marks the arrival of an exciting new voice, rendering a vibrant and teeming world we have read too little about.
---
The Ninth Child by Sally Magnusson (June 7)
A spellbinding novel combining Scottish folklore with hidden history, by the Sunday Times bestselling author Sally Magnusson.

Loch Katrine waterworks, 1856.A Highland wilderness fast becoming an industrial wasteland.No place for a lady.
Isabel Aird is aghast when her husband is appointed doctor to an extraordinary waterworks being built miles from the city. But Isabel, denied the motherhood role that is expected of her by a succession of miscarriages, finds unexpected consolations in a place where she can feel the presence of her unborn children and begin to work out what her life in Victorian society is for.
The hills echo with the gunpowder blasts of hundreds of navvies tunnelling day and night to bring clean water to diseased Glasgow thirty miles away – digging so deep that there are those who worry they are disturbing the land of faery itself. Here, just inside the Highland line, the membrane between the modern world and the ancient unseen places is very thin.
With new life quickening within her again, Isabel can only wait. But a darker presence has also emerged from the gunpowder smoke. And he is waiting too.
---
Sleeping Alone by Ru Freeman (June 7)
Wide-ranging, vibrant stories from the acclaimed author of On Sal Mal Lane.
In thiscollection of rich and textured stories about crossing borders, both real and imagined, Sleeping Alone asks one ofthe fundamental questions of our times: What is the toll of feeling foreign in one's land, to others, or even to oneself? A cast of misfits, young and old, single and coupled, even entire family units, confront startling changes wrought by difficult circumstances or harrowing choices.

These stories span the world, moving from Maine to Sri Lanka, from Dublin to Philadelphia, paying exquisite attention to the dance between the intimate details of our lives and our public selves.

Whether Ru Freeman, author of the novel On Sal Mal Lane, is capturing secrets kept by siblings in Sri Lanka, or the life of itinerants in New York City, she renders the nuances of her characters' lives with real sensitivity, and imbues them with surprising dignity and grace.
---
Fruiting Bodies by Kathryn Harlan (June 7)
This genre-bending debut collection of stories constructs eight eerie worlds full of desire, wisdom, and magic blooming amidst decay.
In stories that beckon and haunt, Fruiting Bodies ranges confidently from the fantastical to the gothic to the uncanny, as it follows characters—mostly queer, mostly women—on the precipice of change. In "The Changeling," two young cousins wait in dread for a new family member to arrive, convinced that he may be a dangerous supernatural creature. In "Endangered Animals," Jane prepares to say goodbye to her almost-love while they road-trip across a country irrevocably altered by climate change. In the title story, partners Agnes and Geb feast peacefully on the mushrooms that sprout from Agnes's body—until an unwanted male guest disturbs their cloistered home.
For readers of Carmen Maria Machado and Karen Russell, Fruiting Bodies offers stories about knowledge in a world on the verge of collapse, knowledge that alternately empowers or devastates. Pulling beautifully, brazenly, from a variety of literary traditions, Kathryn Harlan firmly establishes herself as a thrilling new voice in fiction.
---
Nuclear Family by Joseph Han (June 7)
Set in the months leading up to the 2018 nuclear missile false alarm, a Korean American family living in Hawai'i faces the fallout of their eldest son's attempt to run across the Demilitarized Zone into North Korea in this "fresh, inventive, and at times, hilarious novel" (Kaui Hart Hemmings, author of The Descendants).
Things are looking up for Mr. and Mrs. Cho. Their dream of franchising their Korean plate lunch restaurants across Hawaiʻi seems within reach after a visit from Guy Fieri boosts the profile of Cho's Delicatessen. Their daughter, Grace, is busy finishing her senior year of college and working for her parents, while her older brother, Jacob, just moved to Seoul to teach English. But when a viral video shows Jacob trying—and failing—to cross the Korean demilitarized zone, nothing can protect the family from suspicion and the restaurant from waning sales.

No one knows that Jacob has been possessed by the ghost of his lost grandfather, who feverishly wishes to cross the divide and find the family he left behind in the north. As Jacob is detained by the South Korean government, Mr. and Mrs. Cho fear their son won't ever be able to return home, and Grace gets more and more stoned as she negotiates her family's undoing. Struggling with what they don't know about themselves and one another, the Chos must confront the separations that have endured in their family for decades.

Set in the months leading up to the 2018 false missile alert in Hawaiʻi, Joseph Han's profoundly funny and strikingly beautiful debut novel is an offering that aches with histories inherited and reunions missed, asking how we heal in the face of what we forget and who we remember.
---
The Hop by Diana Clark (June 7)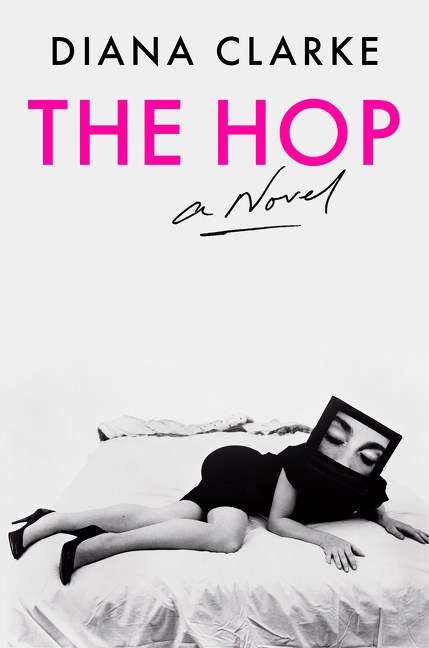 From the author of Thin Girls, a page-turning feminist novel that tells the story of how a poor girl coming of age in rural New Zealand grows to be a sex icon, the face of a movement, and a mother, all at the same time.
Kate Burns grows up wanting attention from her Ma, but her Ma wants only money and Kate learns how to get both. She and her childhood friend, Lacey, run kissing lessons for cash in the janitor's closet of Fenbrook High, and, just like that, they find themselves in the sex work industry. When Ma dies, Kate discovers that the men her Ma was always inviting over to their home were, in fact, clients. Ma was no stranger to sex work either.
Following in Ma's footsteps, Kate heads to Nevada where she picks up a job at America's largest and most successful brothel: The Hop. In her new life as a Bunny, Kate searches for an identity she can perform—the other Bunnies include a goth, a housewife, a hippy, a rebel, all of them acting their archetype flawlessly. She befriends Betty, a trans woman who is a Bunny for kicks rather than cash; Mia, who is marketed as The Asian Persuasion; Dakota and Rain, who are ex-dominatrixes and newly in love. Kate becomes Lady Lane. Lady quickly becomes a bestselling Bunny and the owner Daddy's favorite at this high-class establishment. But when ten street workers are killed in a nearby city, just bodies with no names, Lady joins her sister Bunnies in mourning and begins to see things in a new light.
Lady's success breeds scandal and unwanted fame, deeply affecting her, transforming her life and The Hop forever. Diana Clarke's provocative second novel is subversive in the very best way, an unforgettable work of fiction with a feminist message that couldn't be more important.
---
Woman of Light by Kali Fajardo-Anstine (June 7)
A dazzling epic of betrayal, love, and fate that spans five generations of an Indigenous Chicano family in the American West, from the author of the National Book Award Finalist Sabrina & Corina
"There is one every generation—a seer who keeps the stories."
Luz "Little Light" Lopez, a tea leaf reader and laundress, is left to fend for herself after her older brother, Diego, a snake charmer and factory worker, is run out of town by a violent white mob. As Luz navigates 1930's Denver on her own, she begins to have visions that transport her to her Indigenous homeland in the nearby Lost Territory. Luz recollects her ancestors' origins, how her family flourished and how they were threatened. She bears witness to the sinister forces that have devastated her people and their homelands for generations. In the end, it is up to Luz to save her family stories from disappearing into oblivion.
Written in Kali Fajardo-Anstine's singular voice, the wildly entertaining and complex lives of the Lopez family fill the pages of this multigenerational western saga. Woman of Light is a transfixing novel about survival, family secrets, and love, filled with an unforgettable cast of characters, all of whom are just as special, memorable, and complicated as our beloved heroine, Luz.
---
A Calm and Normal Heart by Chelsea T. Hicks (June 21)
From Oklahoma to California, the heroes of A Calm & Normal Heart are modern-day homesteaders, adventurers, investigators—seeking out new places to call their own inside a Nation to which they do not entirely belong. A member of the Osage tribe, author Chelsea T. Hicks' stories are compelled by an overlooked diaspora inside America: that of young Native people.
In stories like "Goodbye Pizza in Los Angeles," "The Oklahoma Ocean," and "Moot Point," iPhone lifestyles co-mingle with ancestral connection, strengthening relationships or pushing people apart, while generational trauma haunts individual paths. Broken partnerships and polyamorous desire signal a fraught era of modern love, even as old ways continue to influence how people assess compatibility. And in "THNXX by Alcatraz," an indigenous student finds themselves alone on campus for Thanksgiving break, confronting racial differences and the true meaning of the national holiday. Other stories focus on women responding to and transcending familial abuse and patriarchal conditioning. Leaping back in time, "A Fresh Start Ruined" inhabits the life of Florence, an Osage woman attempting to hide her origins while social climbing in midcentury Oklahoma. And in "House of RGB" a woman settles in a home of her own, finally detaching from her pattern of seeking safety through men with the help of a series of ancestral visitations.
Whether in between college semesters or jobs, on the road to tribal dances or hasty weddings, escaping troubled homes, or choosing a new relationship, the characters of A Calm & Normal Heart occupy a complicated and often unreliable terrain. Chelsea T. Hicks brings wry humor, sprawling imagination, and a profound connection to Native experience in a collection that will subvert long-held assumptions for many readers, and inspire hope along the way.
---
Hearts and Bones by Niamh Mulvey (June 23)*
In these eleven stories friendships strain, families break apart, love fades, love warps, and love endures. Moving between Ireland, London and the South of France, from the turn of the century to the present day, Niamh Mulvey asks in Hearts and Bones who we are now that we've brought the old gods down. Each of the stories is pulsing with vitality, immediacy and humanity, and from the first page, when we're introduced to an tense, charged mother–daughter reunion, the characters grab you by the heart and don't let you go.
Witty, sharply observed, and often terribly moving, Hearts and Bones is the announcement of an extraordinary new Irish literary talent.
---
Night of the Living Rez by Morgan Talty (July 5)
Set in a Native community in Maine, Night of the Living Rez is a riveting debut collection about what it means to be Penobscot in the twenty-first century and what it means to live, to survive, and to persevere after tragedy.
In twelve striking, luminescent stories, author Morgan Talty—with searing humor, abiding compassion, and deep insight—breathes life into tales of family and community bonds as they struggle with a painful past and an uncertain future. A boy unearths a jar that holds an old curse, which sets into motion his family's unraveling; a man, while trying to swindle some pot from a dealer, discovers a friend passed out in the woods, his hair frozen into the snow; a grandmother suffering from Alzheimer's projects the past onto her grandson, and thinks he is her dead brother come back to life; and two friends, inspired by Antiques Roadshow, attempt to rob the tribal museum for valuable root clubs.
In a collection that examines the consequences and merits of inheritance, Night of the Living Rez is an unforgettable portrayal of a Native community and marks the arrival of a standout talent in contemporary fiction.
---
Where Dogs Bark With Their Tails by Estelle-Sarah Bulle (tr. Julia Grawemeyer) (July 5)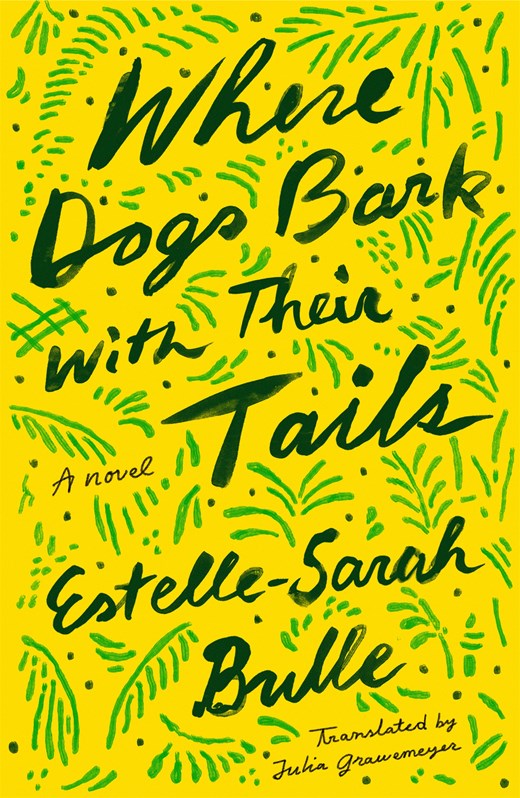 The tales of one family and their larger-than-many-lives sister, Antoine, weaves together the vibrant, epic story of Guadaloupe and its diaspora.
A young woman born in the suburbs of Paris—whose skin color and memories of occasional childhood visits alone connect her to her father's native Guadeloupe—yearns to understand her lineage and her métis identity. Upon her request, her old aunt Antoine, the eccentric and indomitable family matriarch, unveils the history of the Ezechiel clan, and with it, that of the island over the course of the twentieth century.

In a spirited account, punctuated by interludes from other family members, Antoine tells her life story: a childhood spent deep in the countryside; an ill-fated romance between her upper-class mother and farmer father; the splendors and slums of the capital city, Pointe-à-Pitre; the eruption of modernity; the rifts in a deeply hierarchical society under colonial rule—and the reasons she left it all behind.

Through the unforgettable story of the Ezechiels, a richly textured account of the Guadeloupean diaspora emerges, spanning decades and crossing the Atlantic. With lush language and vivid storytelling, Estelle-Sarah Bulle's Where Dogs Bark with Their Tails examines the legacies of capitalism and colonialism, the loss of a beloved mother, what it means to be caught between worlds, and how we might reconcile past, present, and future.
---
The Night Ship Jess Kidd (July 12)
Based on a real-life event, an epic historical novel from the award-winning author of Things in Jars that illuminates the lives of two characters: a girl shipwrecked on an island off Western Australia and, three hundred years later, a boy finding a home with his grandfather on the very same island.
1629: A newly orphaned young girl named Mayken is bound for the Dutch East Indies on the Batavia, one of the greatest ships of the Dutch Golden Age. Curious and mischievous, Mayken spends the long journey going on misadventures above and below the deck, searching for a mythical monster. But the true monsters might be closer than she thinks.
1989: A lonely boy named Gil is sent to live off the coast of Western Australia among the seasonal fishing community where his late mother once resided. There, on the tiny reef-shrouded island, he discovers the story of an infamous shipwreck…​
With her trademark "thrilling, mysterious, twisted, but more than anything, beautifully written" (Graham Norton, New York Times bestselling author) storytelling, Jess Kidd weaves a unputdownable and charming tale of friendship and sacrifice, brutality and forgiveness.
---
Life Ceremony Sayaka Murata (tr. Ginny Tapley Takemori) (July 5)
The long-awaited first short story-collection by the author of the cult sensation Convenience Store Woman, tales of weird love, heartfelt friendships, and the unsettling nature of human existence
With Life Ceremony, the incomparable Sayaka Murata is back with her first collection of short stories ever to be translated into English. In Japan, Murata is particularly admired for her short stories, which are sometimes sweet, sometimes shocking, and always imbued with an otherworldly imagination and uncanniness.
In these twelve stories, Murata mixes an unusual cocktail of humor and horror to portray both the loners and outcasts as well as turning the norms and traditions of society on their head to better question them. Whether the stories take place in modern-day Japan, the future, or an alternate reality is left to the reader's interpretation, as the characters often seem strange in their normality in a frighteningly abnormal world. In "A First-Rate Material," Nana and Naoki are happily engaged, but Naoki can't stand the conventional use of deceased people's bodies for clothing, accessories, and furniture, and a disagreement around this threatens to derail their perfect wedding day. "Lovers on the Breeze" is told from the perspective of a curtain in a child's bedroom that jealously watches the young girl Naoko as she has her first kiss with a boy from her class and does its best to stop her. "Eating the City" explores the strange norms around food and foraging, while "Hatchling" closes the collection with an extraordinary depiction of the fractured personality of someone who tries too hard to fit in.
In these strange and wonderful stories of family and friendship, sex and intimacy, belonging and individuality, Murata asks above all what it means to be a human in our world and offers answers that surprise and linger.
---
Brother Alive by Zain Khalid (July 12)
An astonishing debut novel about family, sexuality, and capitalist systems of control, following three adopted brothers who live above a mosque in Staten Island with their imam father
In 1990, three boys are born, unrelated but intertwined by circumstance: Dayo, Iseul, and Youssef. They are adopted as infants and live in a shared bedroom perched atop a mosque in one of Staten Island's most diverse and precarious neighborhoods, Coolidge. The three boys are a conspicuous trio: Dayo is of Nigerian origin, Iseul is Korean, and Youssef indeterminately Middle Eastern, but they are so close as to be almost inseparable. Nevertheless, Youssef is keeping a secret from his brothers: he has an imaginary double, a familiar who seems absolutely real, a shapeshifting creature he calls Brother. Brother is both a balm for the young boy and a curse—he provides solace to Youssef but demands information in exchange.
The boys' adoptive father, Imam Salim, is popular in the community, known for his radical sermons extolling the virtues of opting out of Western ideologies. But he is uncharismatic at home, a distant father who spends evenings in his study with whiskey-laced coffee, writing letters to his former compatriots back in Saudi Arabia. Like Youssef, he too has secrets, including the cause of his failing health, the reason for his nighttime excursions from the house, and the truth about what happened to the boys' parents. When Imam Salim's path takes him back to Saudi Arabia, the boys will be forced to follow. There they will be captivated by an opulent, almost futuristic world, a linear city that seems to offer a more sustainable modernity than that of the West, and will find traces of their parents' stories. But they will have to change if they want to survive in this new world, and the arrival of a creature as powerful as Brother will not go unnoticed.
With stylistic brilliance and intellectual acuity, in Brother Alive Zain Khalid brings characters to vivid life with a bold energy that matches the great themes of his novel—family, capital, power, sexuality, and the possibility of reunion for those who are broken.
---
God of Want by K-Ming Chang (July 12)
Visceral stories that center the bodies, memories, myths, and relationships of Asian American women, from the National Book Award "5 Under 35" honoree and author of Bestiary
In "Auntland," a steady stream of aunts adjust to American life by sneaking surreptitious kisses from women at temple, buying tubs of vanilla ice cream to prepare for citizenship tests, and hatching plans to name their daughter "Dog." In "The Chorus of Dead Cousins," ghost-cousins cross space, seas, and skies to haunt their live-cousin, wife to a storm-chaser. In "Xífù," a mother-in-law tortures a wife in increasingly unsuccessful attempts to rid the house of her. In "Mariela," two girls explore one another's bodies for the first time in the belly of a plastic shark while in "Virginia Slims," a woman from a cigarette ad comes to life. And in "Resident Aliens," a former slaughterhouse serves as a residence to a series of widows, each harboring her own calamitous secrets.
With each tale, K-Ming Chang gives us her own take on a surrealism that mixes myth and migration, corporeality and ghostliness, queerness and the quotidian. Stunningly told in her feminist fabulist style, these are uncanny stories peeling back greater questions of power and memory.
---
All This Could Be Different by Sarah Thankam Matthews (August 2)
From a brilliant new voice comes an electrifying novel of a young immigrant building a life for herself—a warm, dazzling, and profound saga of queer love, friendship, work, and precarity in twenty-first century America
Graduating into the long maw of an American recession, Sneha is one of the fortunate ones. She's moved to Milwaukee for an entry-level corporate job that, grueling as it may be, is the key that unlocks every door: she can pick up the tab at dinner with her new friend Tig, get her college buddy Thom hired alongside her, and send money to her parents back in India. She begins dating women—soon developing a burning crush on Marina, a beguiling and beautiful dancer who always seems just out of reach.
But before long, trouble arrives. Painful secrets rear their heads; jobs go off the rails; evictions loom. Sneha struggles to be truly close and open with anybody, even as her friendships deepen, even as she throws herself headlong into a dizzying romance with Marina. It's then that Tig begins to draw up a radical solution to their problems, hoping to save them all.
A beautiful and capacious novel rendered in singular, unforgettable prose, All This Could Be Different is a wise, tender, and riveting group portrait of young people forging love and community amidst struggle, and a moving story of one immigrant's journey to make her home in the world.
---
The Pachinko Parlour by Elisa Shua Dusapin (tr. Aneesa Abbas Higgins) (August 18)*
The days are beginning to draw in. The sky is dark by seven in the evening. I lie on the floor and gaze out of the window. Women's calves, men's shoes, heels trodden down by the weight of bodies borne for too long.
It is summer in Tokyo. Claire finds herself dividing her time between tutoring twelve-year-old Mieko, in an apartment in an abandoned hotel, and lying on the floor at her grandparents: daydreaming, playing Tetris and listening to the sounds from the street above. The heat rises; the days slip by.
The plan is for Claire to visit Korea with her grandparents. They fled the civil war there over fifty years ago, along with thousands of others, and haven't been back since. When they first arrived in Japan, they opened Shiny, a pachinko parlour. Shiny is still open, drawing people in with its bright, flashing lights and promises of good fortune. And as Mieko and Claire gradually bond, a tender relationship growing, Mieko's determination to visit the pachinko parlour builds.
The Pachinko Parlour is a nuanced and beguiling exploration of identity and otherness, unspoken histories, and the loneliness you can feel amongst family. Crisp and enigmatic, Shua Dusapin's writing glows with intelligence.
---
The Dreaming by Andre Bagoo (August 25)*
Gay men search for sex, adventure, pleasure, self-realisation and love in Woodbrook, Trinidad.
At one level, Andre Bagoo's stories have the very real virtue of taking the everyday lives of his gay Trinidadian characters utterly for granted in their searches for sex, adventure, pleasure, self-realisation and all the enrichments of loving contact. There's a neat balance between a highly enjoyable sharpness of perception and a relaxed and engaging personal voice, and room for humour in several of these stories. How is the poet ever going to disabuse his lover that his writing has any merit – especially when desire leads him to have a line of his lover's dire poetry immortalised in a tattoo? Where is a style-conscious journalist going to find a barbershop that can do justice to his hair? But the stories also record moments of self-denial, self-deception and fear that point to the fact that this is still a society where gay men experience prejudice, discrimination, and homophobic violence. The narrator of several of these stories is a writer who wants to focus on the personal satisfactions and inner dramas of these lives as the truth about gay experience. But at the back of his mind are the stories of the brutal murders of gay men reported with coy innuendo in the press. If he is tempted to see his lovers as characters in a witty novel of manners, is this a novel that can only take place somewhere other than in Trinidad? But since this is Trinidad, could the conflicted, self-hating Dorian really be a serial killer? Bagoo's stories offer a witty and acutely drawn portrait of contemporary Trinidad in all its intersections of race, class and gender politics. Not least, they share a strong sense of place – Bagoo's gay Woodbrook offers a fine sequel to V.S. Naipaul's Woodbrook stories in his classic Miguel Street.
---
Table for One by Yun Ko-eun (tr. Lizzie Buehler) (September 20)
In these indelible short stories, contemporary South Korean author Yun Ko-eun conjures up slightly off-kilter worlds tucked away in the corners of everyday life. Throughout Table for One, comedy and an element of the surreal are interwoven with the hopelessness and loneliness that pervades the protagonists' decidedly mundane lives.
An office worker who has no one to eat lunch with enrolls in a course that builds confidence about eating alone. A man with a pathological fear of bedbugs offers up his body to save his building from infestation. A time capsule in Seoul is dug up hundreds of years before it was intended to be unearthed. A vending machine repairman finds himself trapped in a shrinking motel during a never-ending snowstorm.
In these and other indelible short stories, contemporary South Korean author Yun Ko-eun conjures up slightly off-kilter worlds tucked away in the corners of everyday life. Her fiction is bursting with images that toe the line between realism and the fantastic. Throughout Table for One, comedy and an element of the surreal are interwoven with the hopelessness and loneliness that pervades the protagonists' decidedly mundane lives. Yun's stories focus on solitary city dwellers, and her eccentric, often dreamlike humor highlights their sense of isolation. Mixing quirky and melancholy commentary on densely packed urban life, she calls attention to the toll of rapid industrialization and the displacement of traditional culture. Acquainting the English-speaking audience with one of South Korea's breakout young writers, Table for One presents a parade of misfortunes that speak to all readers in their unconventional universality.
FANTASY
lol sorry but my fantasy list is basically just Orbit and Tor titles…😬 I am a fantasy baby so i'm still dipping my toes in the tradpub fantasy waters before I get into indie press titles. if you want a more in-depth look at some upcoming 2022 fantasy titles I highly recommend you check out Hadeer's anticipated releases list and this list of queer adult SFF 2022 releases!!
---
Last Exit by Max Gladstone (February 22)
American Gods meets The Dark Tower in a dark, contemporary fantasy of the open road, alternate realities, and self-discovery, from a Locus Award-nominated and Hugo and Nebula Award-winning writer.
Ten years ago, Zelda led a band of merry adventurers whose knacks let them travel to alternate realities and battle the black rot that threatened to unmake each world. Zelda was the warrior; Ish could locate people anywhere; Ramon always knew what path to take; Sarah could turn catastrophe aside. Keeping them all connected: Sal, Zelda's lover and the group's heart.

Until their final, failed mission, when Sal was lost. When they all fell apart.

Ten years on, Ish, Ramon, and Sarah are happy and successful. Zelda is alone, always traveling, destroying rot throughout the US.

When it boils through the crack in the Liberty Bell, the rot gives Zelda proof that Sal is alive, trapped somewhere in the alts.

Zelda's getting the band back together—plus Sal's young cousin June, who has a knack none of them have ever seen before.

As relationships rekindle, the friends begin to believe they can find Sal and heal all the worlds. It's not going to be easy, but they've faced worse before.

But things have changed, out there in the alts. And in everyone's hearts.

Fresh from winning the Hugo and Nebula Awards, Max Gladstone weaves elements of American myth–the muscle car, the open road, the white-hatted cowboy–into a deeply emotional tale where his characters must find their own truths if they are to survive.
---
Book of Night by Holly Black (May 3)
#1 New York Times bestselling author Holly Black makes her stunning adult debut with Book of Night, a modern dark fantasy of shadowy thieves and secret societies in the vein of Ninth House and The Night Circus
In Charlie Hall's world, shadows can be altered, for entertainment and cosmetic preferences—but also to increase power and influence. You can alter someone's feelings and memories—but manipulating shadows has a cost, with the potential to take hours or days from your life. Your shadow holds all the parts of you that you want to keep hidden—a second self, standing just to your left, walking behind you into lit rooms.

And sometimes, it has a life of its own.

Charlie is a low-level con artist, working as a bartender while trying to distance herself from the powerful and dangerous underground world of shadow trading. When a terrible figure from her past returns, Charlie's present life is thrown into chaos and her future seems, at best, unclear; and at worst, non-existent. Determined to survive, Charlie throws herself into a maelstrom of secrets and murder, setting her against a cast of doppelgangers, mercurial billionaires, shadow thieves, and her own sister—all desperate to control the magic of the shadows.

With sharp angles and prose, and a sinister bent, Holly Black is a master of shadow and story stitching. Remember while you read, light isn't playing tricks in Book of Night, the people are.
---
The Stardust Thief by Chelsea Abdullah (May 17)
Inspired by stories from One Thousand and One Nights, The Stardust Thief weaves the gripping tale of a legendary smuggler, a cowardly prince, and a dangerous quest across the desert to find a legendary, magical lamp.
Neither here nor there, but long ago…
Loulie al-Nazari is the Midnight Merchant: a criminal who, with the help of her jinn bodyguard, hunts and sells illegal magic. When she saves the life of a cowardly prince, she draws the attention of his powerful father, the sultan, who blackmails her into finding an ancient lamp that has the power to revive the barren land—at the cost of sacrificing all jinn.
With no choice but to obey or be executed, Loulie journeys with the sultan's oldest son to find the artifact. Aided by her bodyguard, who has secrets of his own, they must survive ghoul attacks, outwit a vengeful jinn queen, and confront a malicious killer from Loulie's past. And, in a world where story is reality and illusion is truth, Loulie will discover that everything—her enemy, her magic, even her own past—is not what it seems, and she must decide who she will become in this new reality.
---
A Taste of Gold and Iron by Alexandra Rowland (June 21)
The Goblin Emperor meets "Magnificent Century"—a queer central romance unfolds in a fantasy world reminiscent of the Ottoman Empire
"A delicious tangle of romance, fealty, and dangerous politics."—Tasha Suri

Kadou, the shy prince of Arasht, finds himself at odds with one of the most powerful ambassadors at court—the body-father of the queen's new child—in an altercation which results in his humiliation.

To prove his loyalty to the queen, his sister, Kadou takes responsibility for the investigation of a break-in at one of their guilds, with the help of his newly appointed bodyguard, the coldly handsome Evemer, who seems to tolerate him at best. In Arasht, where princes can touch-taste precious metals with their fingers and myth runs side by side with history, counterfeiting is heresy, and the conspiracy they discover could cripple the kingdom's financial standing and bring about its ruin.
---
The Oleander Sword by Tasha Suri (August 16)
The Jasmine Throne has been hailed as a series opener that will "undoubtedly reshape the landscape of epic fantasy for years to come" (Booklist, starred). Now, award-winning author Tasha Suri's provocative and powerful Burning Kingdoms trilogy continues with The Oleander Sword.
The prophecy of the nameless god—the words that declared Malini the rightful empress of Parijatdvipa—has proven a blessing and curse. She is determined to claim the throne that fate offered her. But even with the strength of the rage in her heart and the army of loyal men by her side, deposing her brother is going to be a brutal and bloody fight.

The power of the deathless waters flows through Priya's blood. Thrice born priestess, Elder of Ahiranya, Priya's dream is to see her country rid of the rot that plagues it: both Parijatdvipa's poisonous rule, and the blooming sickness that is slowly spreading through all living things. But she doesn't yet understand the truth of the magic she carries.

Their chosen paths once pulled them apart. But Malini and Priya's souls remain as entwined as their destinies. And they soon realize that coming together is the only way to save their kingdom from those who would rather see it burn—even if it will cost them.
---
The Undertaking of Hart and Mercy by Megan Bannen (August 23)
Hart Ralston is a marshal, tasked with patrolling the wasteland of Tanria, hunting for drudges. It's an unforgiving job, and Hart's got nothing but time to ponder his loneliness.
Mercy Birdsall never has a moment to herself. She's been single-handedly keeping Birdsall & Son Undertakers afloat – despite definitely not being a son – in defiance of sullen jerks like Hart Ralston, who seems to have a gift for showing up right when her patience is thinnest.
After yet another exasperating run-in with Mercy, Hart finds himself penning a letter addressed simply to "A Friend". Much to his surprise, an anonymous letter comes back in return, and a tentative friendship is born.
If only Hart knew he's been baring his soul to the person who infuriates him most – Mercy. As the unlikely pen pals grow closer, so does the danger posed by the drudges. And suddenly their old animosity seems so small compared to what they might be able to do: end the drudges forever. But can their blossoming romance survive the fated discovery that their pen pals are their worst nightmares – each other?
---
Babel by R. F. Kuang (August 23)
From award-winning author R. F. Kuang comes Babel, a thematic response to The Secret History? and a tonal retort to Jonathan Strange & Mr. Norrell that grapples with student revolutions, colonial resistance, and the use of language and translation as the dominating tool of the British empire.
Traduttore, traditore: An act of translation is always an act of betrayal.
1828. Robin Swift, orphaned by cholera in Canton, is brought to London by the mysterious Professor Lovell. There, he trains for years in Latin, Ancient Greek, and Chinese, all in preparation for the day he'll enroll in Oxford University's prestigious Royal Institute of Translation—also known as Babel.
Babel is the world's center for translation and, more importantly, magic. Silver working—the art of manifesting the meaning lost in translation using enchanted silver bars—has made the British unparalleled in power, as its knowledge serves the Empire's quest for colonization.
For Robin, Oxford is a utopia dedicated to the pursuit of knowledge. But knowledge obeys power, and as a Chinese boy raised in Britain, Robin realizes serving Babel means betraying his motherland. As his studies progress, Robin finds himself caught between Babel and the shadowy Hermes Society, an organization dedicated to stopping imperial expansion. When Britain pursues an unjust war with China over silver and opium, Robin must decide…
Can powerful institutions be changed from within, or does revolution always require violence?
---
Nona the Ninth by Tamsyn Muir (September 13)
Her city is under siege.
The zombies are coming back.
And all Nona wants is a birthday party.
In many ways, Nona is like other people. She lives with her family, has a job at her local school, and loves walks on the beach and meeting new dogs. But Nona's not like other people. Six months ago she woke up in a stranger's body, and she's afraid she might have to give it back.
The whole city is falling to pieces. A monstrous blue sphere hangs on the horizon, ready to tear the planet apart. Blood of Eden forces have surrounded the last Cohort facility and wait for the Emperor Undying to come calling. Their leaders want Nona to be the weapon that will save them from the Nine Houses. Nona would prefer to live an ordinary life with the people she loves, with Pyrrha and Camilla and Palamedes, but she also knows that nothing lasts forever.
And each night, Nona dreams of a woman with a skull-painted face…
ROMANCE
there are so many other romance titles that I have my eye on at the moment, but romance is the kind of genre where I tend to just take books as they come as opposed to look up info about them in advance. for now, these are the top romance titles that I've either read/will definitely be reading in 2022.
---
Count Your Lucky Stars by Alexandria Bellefleur (February 1)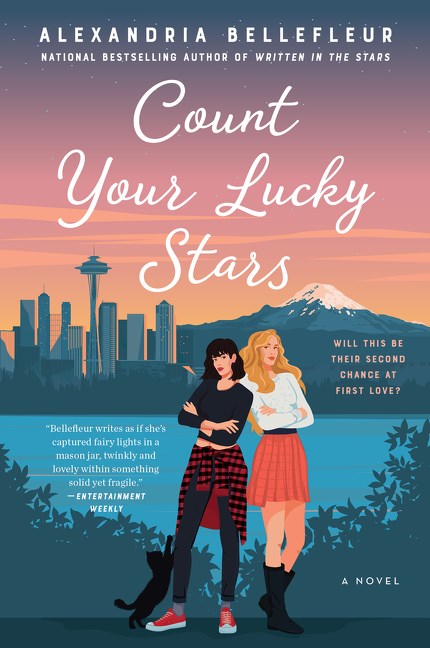 Following Written in the Stars and Hang the Moon, Lambda Literary Award winner and national bestselling author Alexandria Bellefleur pens another steamy queer rom-com about former best friends who might be each other's second chance at love…
Margot Cooper doesn't do relationships. She tried and it blew up in her face, so she'll stick with casual hookups, thank you very much. But now her entire crew has found "the one"and she's beginning tofeel like a fifth wheel. And then fate (the heartless bitch) intervenes. While touring a wedding venue with her engaged friends, Margot comes face-to-face with Olivia Grant—her childhood friend, her first love, her first… well, everything. It's been ten years, but the moment they lock eyes, Margot's cold, dead heart thumps in her chest.
Olivia must be hallucinating. In the decade since she last saw Margot, her life hasn't gone exactly as planned. At almost thirty, she's been married… and divorced. However, a wedding planner job in Seattle means a fresh start and a chance to follow her dreams. Never in a million years did she expect her important new client's Best Woman would be the one that got away.
When a series of unfortunate events leaves Olivia without a place to stay, Margot offers up her spare room because she's a Very Good Person. Obviously. It has nothing to do with the fact that Olivia is as beautiful as ever and the sparks between them still make Margot tingle. As they spend time in close quarters, Margot starts to question her no-strings stance. Olivia is everything she's ever wanted, but Margot let her in once and it ended in disaster. Will history repeat itself or should she count her lucky stars that she gets a second chance with her first love?
---
Book Lovers by Emily Henry (May 3)
A by-the-book literary agent must decide if happily ever after is worth changing her whole life for in this insightful, delightful new novel from the #1 New York Times bestselling author of Beach Read and People We Meet on Vacation.

Nora Stephens life is books—she's read them all—and she is not that type of heroine. Not the plucky one, not the laidback dream girl, and especially not the sweetheart. In fact, the only people Nora is a heroine for are her clients, for whom she lands enormous deals as a cutthroat literary agent, and her beloved little sister Libby.
Which is why she agrees to go to Sunshine Falls, North Carolina for the month of August when Libby begs her for a sisters' trip away—with visions of a small town transformation for Nora who she's convinced needs to become the heroine in her own story. But instead of picnics in meadows, or run-ins with a handsome country doctor or bulging-forearmed bartender, Nora keeps bumping into Charlie Lastra, a bookish brooding editor from back in the city. It would be a meet-cute if not for the fact that they've met many times and it's never been cute.
If Nora knows she's not an ideal heroine, Charlie knows he's nobody's hero, but as they are thrown together again and again—in a series of coincidences no editor worth their salt would allow—what they discover might just unravel the carefully crafted stories they've written about themselves.
---
A Brush with Love by Mazey Eddings (March 1)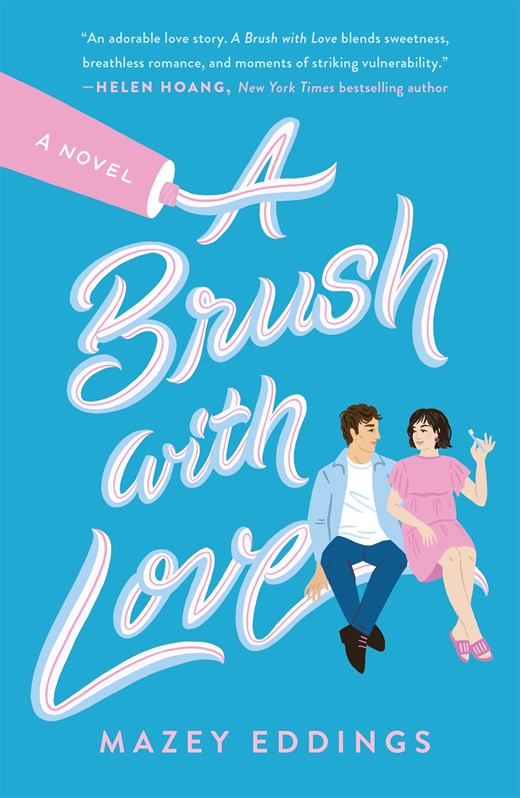 Nine out of ten dentists agree, A Brush with Love makes your smile brighter!*
*not scientifically proven
Harper is anxiously awaiting placement into a top oral surgery residency program when she crashes (literally) into Dan. Harper would rather endure a Novocaine-free root canal than face any distractions, even one this adorable. A first-year dental student with a family legacy to contend with, Dan doesn't have the same passion for pulling teeth that Harper does. Though he finds himself falling for her, he is willing to play by Harper's rules. So with the greatest of intentions and the poorest of follow-throughs, the two set out to be "just friends." But as they get to know each other better, Harper fears that trading fillings for feelings may make her lose control and can't risk her carefully ordered life coming undone, no matter how drool-worthy Dan is.

Blood, gore, and extra-long roots? No problem. The idea of falling in love? Torture.
NONFICTION
Fear of Black Consciousness by Lewis R. Gordon (January 11)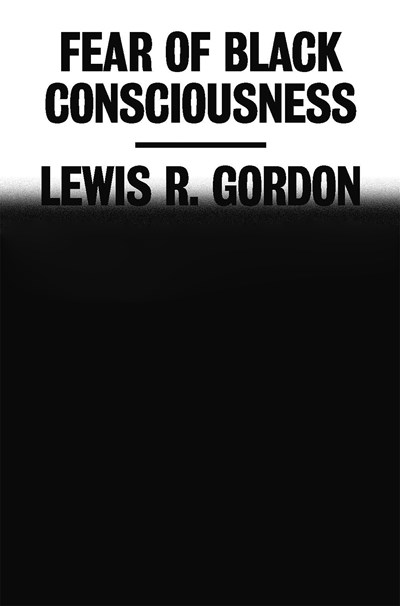 A groundbreaking account of Black consciousness by a leading philosopher.
In this original and penetrating work, Lewis R. Gordon, one of the leading scholars of Black existentialism and anti-Blackness, takes the reader on a journey through the historical development of racialized Blackness, the problems this kind of consciousness produces, and the many creative responses from Black and non-Black communities in contemporary struggles for dignity and freedom. Skillfully navigating a difficult and traumatic terrain, Gordon cuts through the mist of white narcissism and the versions of consciousness it perpetuates. He exposes the bad faith at the heart of many discussions about race and racism in America, including those who think of themselves as "color blind." As Gordon reveals, these lies offer many white people an inherited sense of being extraordinary, a license to do as they please. But for many if not most Blacks, to live an ordinary life in a white-dominated society is an extraordinary achievement.

Informed by Gordon's life growing up in Jamaica and the Bronx, and taking as a touchstone the pandemic and the uprisings against police violence, Fear of Black Consciousness is a groundbreaking work that positions Black consciousness as a political commitment and creative practice, richly layered through art, love, and revolutionary action.
---
Angela Davis: An Autobiography (January 18)
Featuring a new introduction by the author, Angela Davis: An Autobiography is a classic account of a life in struggle.
Angela Davis has been a political activist at the cutting edge of the Black Liberation, feminist, queer, and prison abolitionist movements for more than 50 years. First published and edited by Toni Morrison in 1974, An Autobiography is a powerful and commanding account of her early years in struggle. Davis describes her journey from a childhood on Dynamite Hill in Birmingham, Alabama, to one of the most significant political trials of the century: from her political activity in a New York high school to her work with the U.S. Communist Party, the Black Panther Party, and the Soledad Brothers; and from the faculty of the Philosophy Department at UCLA to the FBI's list of the Ten Most Wanted Fugitives. Told with warmth, brilliance, humor and conviction, Angela Davis's autobiography is a classic account of a life in struggle with echoes in our own time.
---
High-Risk Homosexual by Edgar Gomez (January 11)
This witty memoir traces a touching and often hilarious spiralic path to embracing a gay, Latinx identity against a culture of machismo—from a cockfighting ring in Nicaragua to cities across the U.S.—and the bath houses, night clubs, and drag queens who help redefine pride
I've always found the definition of machismo to be ironic, considering that pride is a word almost unanimously associated with queer people, the enemy of machistas…In a world desperate to erase us, queer Latinx men must find ways to hold on to pride for survival, but excessive male pride is often what we are battling, both in ourselves and in others.

A debut memoir about coming of age as a gay, Latinx man, High-Risk Homosexual opens in the ultimate anti-gay space: Edgar Gomez's uncle's cockfighting ring in Nicaragua, where he was sent at thirteen years old to become a man. Readers follow Gomez through the queer spaces where he learned to love being gay and Latinx, including Pulse nightclub in Orlando, a drag queen convention in Los Angeles, and the doctor's office where he was diagnosed a "high-risk homosexual."

With vulnerability, humor, and quick-witted insights into racial, sexual, familial, and professional power dynamics, Gomez shares a hard-won path to taking pride in the parts of himself he was taught to keep hidden. His story is a scintillating, beautiful reminder of the importance of leaving space for joy.
---
These Bodies of Water: Notes on the British Empire, the Middle East and Where We All Meet by Sabrina Mahfouz (March 23)*
Sabrina Mahfouz once sat in a Whitehall interview room and was interrogated about everything from her political leanings to her private life. It was ostensibly a job interview, but implicit in their demands was the unspoken question: as a woman of Middle Eastern heritage, could she really be trusted?

Years later, Sabrina found herself confronting the meaning behind this interrogation, and how it was specifically informed by the British Empire's historical dominance in the Middle East. These Bodies of Water investigates this history through the Middle Eastern coastlines and waterways that were so vital to the Empire's hold. Interwoven with her own personal experiences, Sabrina combines history, politics, myth and poetry in a devastating examination of this unacknowledged part of Britain's colonial past.

Part history, part polemic and part intimate memoir, These Bodies of Water is a tapestry of writing that tells the story of Britain's relationship with the Middle East in the most revealing terms.
---
Some of My Best Friends: Essays on Lip Service by Tajja Isen (April 19)
A fearless and darkly comic essay collection about race, justice, and the limits of good intentions.
In this stunning debut collection, Catapult editor-in-chief and award-winning voice actor Tajja Isen explores the absurdity of living in a world that has grown fluent in the language of social justice but doesn't always follow through.
These nine daring essays explore the sometimes troubling and often awkward nature of that discord. Some of My Best Friends takes on the cartoon industry's pivot away from colorblind casting, the pursuit of diverse representation in the literary world, the law's refusal to see inequality, and the cozy fictions of nationalism. Isen deftly examines the quick, cosmetic fixes society makes to address systemic problems, and reveals the unexpected ways they can misfire.
In the spirit of Zadie Smith, Cathy Park Hong, and Jia Tolentino, Isen interlaces cultural criticism with her lived experience to explore the gaps between what we say and what we do, what we do and what we value, what we value and what we demand.
---
You've Changed : Fake Accents, Feminism, and Other Comedies from Myanmar (May 13)
In this electric debut essay collection, a Myanmar millennial playfully challenges us to examine the knots and complications of immigration status, eating habits, Western feminism in an Asian home, and more, guiding us toward an expansive idea of what it means to be a Myanmar woman today.
What does it mean to be a Myanmar person—a baker, swimmer, writer and woman—on your own terms rather than those of the colonizer? These irreverent yet vulnerable essays ask that question by tracing the journey of a woman who spent her young adulthood in the US and UK before returning to her hometown of Yangon, where she still lives.

In You've Changed, Pyae takes on romantic relationships whose futures are determined by different passports, switching accents in American taxis, the patriarchal Myanmar concept of hpone which governs how laundry is done, swimming as refuge from mental illness, pleasure and shame around eating rice, and baking in a kitchen far from white America's imagination.

Throughout, she wrestles with the question of who she is—a Myanmar woman in the West, a Western-educated person in Yangon, a writer who refuses to be labeled a "race writer." With intimate and funny prose, Pyae shows how the truth of identity may be found not in stability, but in its gloriously unsettled nature.
---
Poor Little Sick Girls: Celebrating femininity, fatness, illness and life by Ione Gamble (May 26)*
Wellness is oppressive, self-love is a trap, hustling is a health risk, and it's all the patriarchy's fault. Poor Little Sick Girls is THE book for femmes who are online and want more from activism and life.
Ione Gamble never imagined that entering adulthood would mean hospital trips, medication choices, and throwing up in public. Diagnosed with an incurable illness two weeks after her nineteenth birthday, as the world became obsessed with Girlboss feminism, Ione came to grips with spending 20 hours a day in bed.
Watching identity politics become social media fodder, from the confines of her sickbed she began to pick apart our obsession with self-care, personal branding, productivity, and #LivingYourBestLife.
Using her experience with disability to cast a fresh gaze on the particularly peculiar cultural moment in which young women find themselves, Poor Little Sick Girls explores the pressures faced – as well as the power of existing as – a chronically ill, overweight, and unacceptable woman in our current era of empowerment.
---
Rogues by Patrick Radden Keefe (June 28)
From the prize-winning, New York Times bestselling author of SAY NOTHING and EMPIRE OF PAIN, twelve enthralling stories of skulduggery and intrigue by one of the most decorated journalists of our time

Patrick Radden Keefe has garnered prizes ranging from the National Magazine Award to the Orwell Prize to the National Book Critics Circle Award for his meticulously-reported, hypnotically-engaging work on the many ways people behave badly. ROGUES brings together a dozen of his most celebrated articles from The New Yorker. As Keefe says in his preface "They reflect on some of my abiding preoccupations: crime and corruption, secrets and lies, the permeable membrane separating licit and illicit worlds, the bonds of family, the power of denial."

Keefe brilliantly explores the intricacies of forging $150,000 vintage wines, examines whether a whistleblower who dared to expose money laundering at a Swiss bank is a hero or a fabulist, spends time in Vietnam with Anthony Bourdain, chronicles the quest to bring down a cheerful international black market arms merchant, and profiles a passionate death penalty attorney who represents the "worst of the worst," among other bravura works of literary journalism.

The appearance of his byline in The New Yorker is always an event, and collected here for the first time readers can see his work forms an always enthralling but deeply human portrait of criminals and rascals, as well as those who stand up against them.
---
All Down Darkness Wide by Seán Hewitt (July 12)
By turns devastating and soaring, an ambitious memoir debut from one of Irish literature's rising stars, Seán Hewitt.
When Seán Hewitt meets Elias, the two fall headlong into a love story. But as Elias struggles with severe depression, the couple comes face-to-face with crisis.
All Down Darkness Wide is a perceptive and unflinching meditation on the burden of living in a world that too often sets happiness and queer life at odds, and a tender and honest portrayal of what it's like to be caught in the undertow of a loved one's mental illness. As lives are made and unmade, this memoir asks what love can endure and what it cannot.
Delving deep into his own history, enlisting the ghosts of queer figures before him, Hewitt plumbs the darkness in search of answers. From a nineteenth-century cemetery in Liverpool to a sacred grotto in the Pyrenees, it is a journey of lonely discovery followed by the light of community. Haunted by the rites of Catholicism and specters of shame, it is nevertheless marked by an insistent search for beauty.
Hewitt captures transcendent moments in nature with exquisite lyricism, honors the power of reciprocated desire, and provides a master class in the incredible force of unsparing specificity. All Down Darkness Wide illuminates a path ahead for queer literature and for the literature of heartbreak striking a piercing and resonant chord for all who trace Hewitt's dauntless footsteps
---
Blog | Goodreads | Twitter | Instagram