---
hello everyone!! it's officially nonfiction november (hosted by Olive from abookolive!) so I thought I'd dedicate a post to essay collections, which I've been really getting into these days. That being said, I've split this post in two sections: one section highlighting some of my fav essay collections, and then another highlighting some essay collections that I would love to read soon. 😊
---
MY FAVOURITES
Constellations by Sinéad Gleeson
I have come to think of all the metal in my body as artificial stars, glistening beneath the skin, a constellation of old and new metal. A map, a tracing of connections and a guide to looking at things from different angles.

How do you tell the story of life that is no one thing? How do you tell the story of a life in a body, as it goes through sickness, health, motherhood? And how do you tell that story when you are not just a woman but a woman in Ireland? In these powerful and daring essays, Sinead Gleeson does that very thing. In doing so she delves into a range of subjects: art, illness, ghosts, grief, and our very ways of seeing. In writing that is in tradition of some of our finest writers such as Olivia Laing, Maggie O'Farrell, and Maggie Nelson, and yet still in her own spirited, warm voice, Gleeson takes us on a journey that is both personal and yet universal in its resonance.
This is the kind of book that I will never stop recommending because it's the kind of book that I just can't fathom anyone disliking. Absolutely beautiful writing on disability, gender, art, grief, and so much more. Sinéad Gleeson is an incredible writer and Constellations really is nothing short of an incredible book.
---
Thick by Tressie McMillan Cottom
Smart, humorous, and strikingly original thoughts on race, beauty, money, and more—by one of today's most intrepid public intellectuals

Tressie McMillan Cottom, the writer, professor, and acclaimed author of Lower Ed, now brilliantly shifts gears from running regression analyses on college data to unleashing another identity: a purveyor of wit, wisdom—and of course Black Twitter snark—about all that is right and much that is so very wrong about this thing we call society. In the bestselling tradition of bell hooks and Roxane Gay, McMillan Cottom's freshman collection illuminates a particular trait of her tribe: being thick. In form, and in substance.

This bold compendium, likely to find its place on shelves alongside Lindy West, Rebecca Solnit, and Maggie Nelson, dissects everything from beauty to Obama to pumpkin spice lattes. Yet Thick will also fill a void on those very shelves: a modern black American female voice waxing poetic on self and society, serving up a healthy portion of clever prose and southern aphorisms in a style uniquely her own.

McMillan Cottom has crafted a black woman's cultural bible, as she mines for meaning in places many of us miss and reveals precisely how—when you're in the thick of it—the political, the social, and the personal are almost always one and the same.
The essays in Thick occupy a middle ground between academic and casual: they're very analytical and critical, coming as they do from Tressie McMillan Cottom's background in political economy. but also not so dense that they're completely inaccessible to a layreader. All of this is to say, I loved this book. It's the kind of book that really demands your attention, and that rewards you well for that attention.
---
The Right to Sex by Amia Srinivasan
Thrilling, sharp, and deeply humane, philosopher Amia Srinivasan's The Right to Sex: Feminism in the Twenty-First Century upends the way we discuss—or avoid discussing—the problems and politics of sex.

How should we think about sex? It is a thing we have and also a thing we do; a supposedly private act laden with public meaning; a personal preference shaped by outside forces; a place where pleasure and ethics can pull wildly apart.

How should we talk about sex? Since #MeToo many have fixed on consent as the key framework for achieving sexual justice. Yet consent is a blunt tool. To grasp sex in all its complexity—its deep ambivalences, its relationship to gender, class, race and power—we need to move beyond yes and no, wanted and unwanted.

We do not know the future of sex—but perhaps we could imagine it. Amia Srinivasan's stunning debut helps us do just that. She traces the meaning of sex in our world, animated by the hope of a different world. She reaches back into an older feminist tradition that was unafraid to think of sex as a political phenomenon. She discusses a range of fraught relationships—between discrimination and preference, pornography and freedom, rape and racial injustice, punishment and accountability, students and teachers, pleasure and power, capitalism and liberation.

The Right to Sex: Feminism in the Twenty-First Century is a provocation and a promise, transforming many of our most urgent political debates and asking what it might mean to be free.
This is a new favourite of mine, and a book that I just haven't been able to stop thinking about since I read it. I just wrote a full review of this, so I don't want to be redundant, but I'll just say: The Right to Sex is a sharp book, clear-eyed and incisive in its analysis of a lot of topics that have long been discussed within feminism, from consent to porn to sex work. I thought it was so memorable, and I just know it's the kind of book I'll want to go back to and read more carefully in the future.
---
My Time Among the Whites by Jennine Capó Crucet
In this sharp and candid collection of essays, first-generation American Jennine Capó Crucet explores the condition of finding herself a stranger in the country where she was born.

Raised in Miami and the daughter of Cuban refugees, Crucet examines the political and personal contours of American identity and the physical places where those contours find themselves smashed: be it a rodeo town in Nebraska, a university campus in upstate New York, or Disney World in Florida.

Crucet illuminates how she came to see her exclusion from aspects of the theoretical American Dream, despite her family's attempts to fit in with white American culture—beginning with their ill-fated plan to name her after the winner of the Miss America pageant.

In prose that is both fearless and slyly humorous, My Time Among the Whites examines the sometimes hopeful, sometimes deeply flawed ways in which many Americans have learned to adapt, exist, and―in the face of all signals saying otherwise―perhaps even thrive in a country that never imagined them here.
This is a collection that's very different from the ones I've mentioned so far; it's more of a memoir in essays, with the essays focusing on important moments in Crucet's life: her being the first in her family to attend university, her attempts to plan a wedding that would include her culture, her relationship to money. Crucet's voice is frank and so endearing, and she's able to marry her personal experiences with an analysis of more systemic issues really well.
---
A Mind Spread Out on the Ground by Alicia Elliott
A bold and profound meditation on trauma, legacy, oppression and racism in North America from award-winning Haudenosaunee writer Alicia Elliott.

In an urgent and visceral work that asks essential questions about the treatment of Native people in North America while drawing on intimate details of her own life and experience with intergenerational trauma, Alicia Elliott offers indispensable insight into the ongoing legacy of colonialism. She engages with such wide-ranging topics as race, parenthood, love, mental illness, poverty, sexual assault, gentrifcation, writing and representation, and in the process makes connections both large and small between the past and present, the personal and political–from overcoming a years-long battle with head lice to the way Native writers are treated within the Canadian literary industry; her unplanned teenage pregnancy to the history of dark matter and how it relates to racism in the court system; her childhood diet of Kraft Dinner to how systemic oppression is directly linked to health problems in Native communities.

With deep consideration and searing prose, Elliott provides a candid look at our past, an illuminating portrait of our present and a powerful tool for a better future.
I just talked about this book on my Instagram, but I'll talk about it again, because it is absolutely worth mentioning: if you're looking for insightful, intertextual, and thought-provoking essays, look no further. Elliott touches on a lot of topics here–food, mental illness, sexual assault, family–and she does it all with such a deft hand. You can tell that with each essay Elliott is trying to do something different, whether formally or conceptually, and it is this willingness to switch things up that makes her collection so compelling.
---
MY TBR
A Little Devil in America by Hanif Abdurraqib
A stirring meditation on Black performance in America from the New York Times bestselling author of Go Ahead in the Rain

At the March on Washington in 1963, Josephine Baker was fifty-seven years old, well beyond her most prolific days. But in her speech she was in a mood to consider her life, her legacy, her departure from the country she was now triumphantly returning to. "I was a devil in other countries, and I was a little devil in America, too," she told the crowd. Inspired by these few words, Hanif Abdurraqib has written a profound and lasting reflection on how Black performance is inextricably woven into the fabric of American culture. Each moment in every performance he examines—whether it's the twenty-seven seconds in "Gimme Shelter" in which Merry Clayton wails the words "rape, murder," a schoolyard fistfight, a dance marathon, or the instant in a game of spades right after the cards are dealt—has layers of resonance in Black and white cultures, the politics of American empire, and Abdurraqib's own personal history of love, grief, and performance.

Abdurraqib writes prose brimming with jubilation and pain, infused with the lyricism and rhythm of the musicians he loves. With care and generosity, he explains the poignancy of performances big and small, each one feeling intensely familiar and vital, both timeless and desperately urgent. Filled with sharp insight, humor, and heart, A Little Devil in America exalts the Black performance that unfolds in specific moments in time and space—from midcentury Paris to the moon, and back down again to a cramped living room in Columbus, Ohio.
This sounds incredible. That's basically my main impression of it, based on that synopsis. I haven't read anything by Hanif Abdurraqib before, but I just know his writing is going to be absolutely beautiful. Also, if you weren't convinced by the synopsis already, this book was recently longlisted for the National Book Award, so lots to be excited about. 🎇
---
The Colour of God by Ayesha S. Chaudhry
This is the story of a child raised in Canada by parents who embraced a puritanical version of Islam to shield them from racism. The author explores the joys and sorrows of growing up in a fundamentalist Muslim household, wedding grand historical narratives of colonialism and migration to the small intimate heartbreaks of modern life. In revisiting the beliefs and ideals she was raised with, Chaudhry invites us to reimagine our ideas of self and family, state and citizenship, love and loss.
Mercedes initially got this book on my radar when she read and loved it, and then more recently I saw Jill rave about it on her channel, so all signs are pointing to me reading this book. I also love me a good essay collection from a professor, which I know Ayesha S. Chaudhry is.
---
The Transgender Issue by Shon Faye
Trans people in Britain today have become a culture war 'issue'. Despite making up less than 1% of the country's population, they are the subjects of a toxic and increasingly polarised 'debate', which generates reliable controversy for newspapers and talk shows. This media frenzy conceals a simple fact: that we are having the wrong conversation, a conversation in which trans people themselves are reduced to a talking point and denied a meaningful voice.

In this powerful new book, Shon Faye reclaims the idea of the 'transgender issue' to uncover the reality of what it means to be trans in a transphobic society. In doing so, she provides a compelling, wide-ranging analysis of trans lives from youth to old age, exploring work, family, housing, healthcare, the prison system, and trans participation in the LGBTQ+ and feminist communities, in contemporary Britain and beyond.

The Transgender Issue is a landmark work that signals the beginning of a new, healthier conversation about trans life. It is a manifesto for change, and a call for justice and solidarity between all marginalised people and minorities. Trans liberation, as Faye sees it, goes to the root of what our society is and what it could be; it offers the possibility of a more just, free and joyful world for all of us.
This book has been everywhere, and I'm just really interested in reading a book specifically about issues around trans identity and experience. Also it was blurbed by Judith Butler so 👀
---
Things I Have Withheld by Kei Miller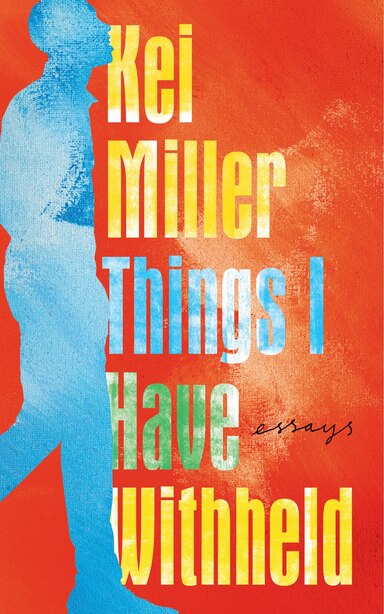 By acclaimed Forward Prize winner, novelist, and poet, Kei Miller's linked collection of essays blends memoir and literary commentary to explore the silences that exist in our conversations about race, sex, and gender.

In a deeply moving, critical and lyrical collection of interconnected essays, award-winning writer Kei Miller explores the silences in which so many important things are kept. Miller examines the experience of discrimination through this silence and what it means to breach it — "to risk words, to risk truth; and through the body and the histories those bodies inherit" the crimes that haunt them, and how the meanings of our bodies can shift as we move through the world, variously assuming privilege or victimhood.

Through letters to James Baldwin, encounters with Soca, Carnival, family secrets, love affairs, questions of aesthetics and more, Miller powerfully and imaginatively recounts everyday acts of racism and prejudice from a black, male, queer perspective. An almost disarmingly personal collection, Kei dissects his experiences in Jamaica and Britain, working as an artist and intellectual, making friends and lovers, discovering the possibilities of music and dance, literary criticism, culture, and storytelling.

With both the epigrammatic concision and conversational cadence of his poetry and novels, Things I Have Withheld is a great artistic achievement: a work of innovation and beauty which challenges us to interrogate what seems unsayable and why, "our actions, defense mechanisms, imaginations and interactions" and those of the world around us.
I'm currently in the middle of this and can tell you that it absolutely lives up to its synopsis. "Epigrammatic concision and conversational cadence" is such a perfect way of describing Kei Miller's writing in this collection. These are really personal, moving essays, and the fact that Miller is also a poet really comes across in the language of every essay. I've put this book on hold for the moment because I'm not quite in the mindset for it right now, but it's been so underhyped since it's come out and I would love to see more people reading and talking about it!!
---
White Magic by Elissa Washuta
Bracingly honest and powerfully affecting, White Magic establishes Elissa Washuta as one of our best living essayists.

Throughout her life, Elissa Washuta has been surrounded by cheap facsimiles of Native spiritual tools and occult trends, "starter witch kits" of sage, rose quartz, and tarot cards packaged together in paper and plastic. Following a decade of abuse, addiction, PTSD, and heavy-duty drug treatment for a misdiagnosis of bipolar disorder, she felt drawn to the real spirits and powers her dispossessed and discarded ancestors knew, while she undertook necessary work to find love and meaning.

In this collection of intertwined essays, she writes about land, heartbreak, and colonization, about life without the escape hatch of intoxication, and about how she became a powerful witch. She interlaces stories from her forebears with cultural artifacts from her own life—Twin Peaks, the Oregon Trail II video game, a Claymation Satan, a YouTube video of Stevie Nicks and Lindsey Buckingham—to explore questions of cultural inheritance and the particular danger, as a Native woman, of relaxing into romantic love under colonial rule.
First of all: what a badass cover (AND it has gold foil on it!!!). Second, I've just been hearing so many good things about this book. I'm not really into spiritual or occult stuff, but I definitely wouldn't mind delving into that world given how much people have liked this collection. I also just think this idea of "relaxing into romantic love under colonial rule" is so interesting.
---
Blog | Goodreads | Twitter | Instagram