---
hello hello!!! so last year I wrote a blog post where I compiled a bunch of 2021 translated fiction releases, and you guys seemed to really like it, so I thought I would do a 2022 releases edition! I'm always looking for new translated fiction, especially because it can so easily go under the radar, and also because translated fiction is just REALLY GREAT.
anyway, in this post I have about 36 translated fiction releases that are coming out this year — and they come from so many different countries. there's translated fiction from Japan, China, Germany, France, Belarus, Cuba, Sweden, Italy, Denmark, Morocco, South Korea, India, Ukraine, Mexico, Egypt, Denmark, Oman, Lebanon, Austria, France, Iran, and Spain. so yeah, here's the list, and I hope you find something here that catches your eye. 👀
PS: all release dates are North American, with a few exceptions, which I've noted with an asterisk next to the release date.
---
Longing and Other Stories by Jun'ichiro Tanizaki (tr. Anthony Chambers) (Jan 4)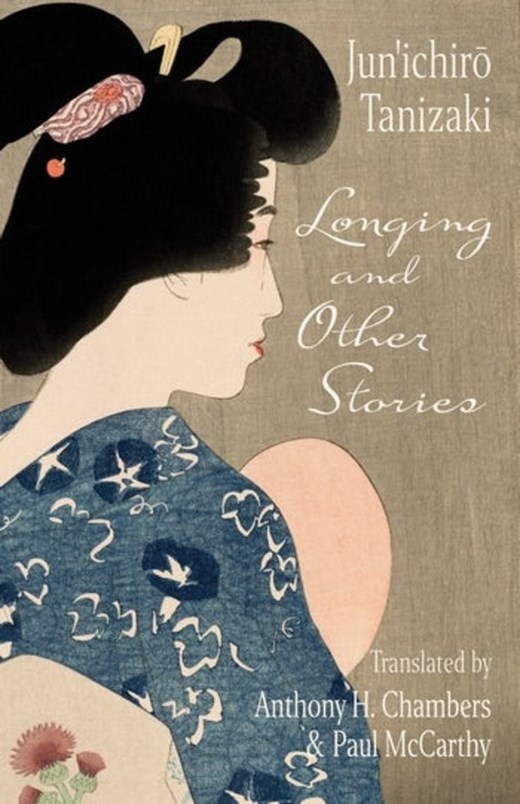 Jun'ichirō Tanizaki is one of the most eminent Japanese writers of the twentieth century, renowned for his investigations of family dynamics, eroticism, and cultural identity. Most acclaimed for his postwar novels such as The Makioka Sisters and The Key, Tanizaki made his literary debut in 1910. This book presents three powerful stories of family life from the first decade of Tanizaki's career that foreshadow the themes the great writer would go on to explore.
"Longing" recounts the fantastic journey of a precocious young boy through an eerie nighttime landscape. Replete with striking natural images and uncanny human encounters, it ends with a striking revelation. "Sorrows of a Heretic" follows a university student and aspiring novelist who lives in degrading poverty in a Tokyo tenement. Ambitious and tormented, the young man rebels against his family against a backdrop of sickness and death. "The Story of an Unhappy Mother" describes a vivacious but self-centered woman's drastic transformation after a freak accident involving her son and daughter-in-law. Written in different genres, the three stories are united by a focus on mothers and sons and a concern for Japan's traditional culture in the face of Westernization. The longtime Tanizaki translators Anthony H. Chambers and Paul McCarthy masterfully bring these important works to an Anglophone audience.
---
Men Don't Cry by Faïza Guène (tr. Sarah Ardizzone) (Jan 4)
A tender and refreshing tale of family life, clashing cultures and belonging in France.
Is it possible to make your own path in the world while upholding your family legacy? That's the question at the heart of this tender and poignant coming-of-age story from the widely-acclaimed author of Kiffe Kiffe Tomorrow.
Born in Nice to Algerian parents, Mourad is fuelled by the desire to forge his own destiny. His retired father spends his days fixing up things in the backyard; his mother, bemoaning the loss of her natal village in North Africa. Mourad lives in fear of becoming an overweight bachelor with salt and pepper hair, living off his mother's cooking. When Mourad's father has a stroke, he makes his son promise to reconcile things with his estranged sister Dounia, a staunch feminist and aspiring politician, who had always felt constrained living at home. Now living in the Paris suburbs himself, Mourad tracks down Dounia and battles to span the gulf separating her and the rest of the family.
---
Call Me Cassandra by Marcial Gala (tr. Anna Kushner) (Jan 11)
From the author of the award-winning The Black Cathedral, a darkly magical tale of a haunted young dreamer, born in the wrong body and time, who believes himself to be a doomed prophetess from ancient Greek mythology.
Ten-year-old Rauli lives in a world that is often hostile. His older brother is violent; his philandering father doesn't understand him; his intelligence and sensitivity do not endear him to the other children at school. He loves to read, especially Greek myths, but in Cuba in the 1970s, novels and gods can be dangerous. Despite the signs that warn Rauli to repress and fear what he is, he knows three things to be true: First, that he was born in the wrong body. Second, that he will die, aged eighteen, as a soldier in the Cuban intervention in Angola. And third, that he is the reincarnation of the Trojan princess Cassandra.

Moving between Rauli's childhood and adolescence, between the Angolan battlefield, the Cuban city of Cienfuegos, and the shores of ancient Troy, Marcial Gala's Call Me Cassandra tells of the search for identity amid the collapse of Cuba's utopian dreams. Burdened with knowledge of tragedies yet to come, Rauli nonetheless strives to know himself. Lyrical and gritty, heartbreaking and luminous, Rauli's is the story of the inexorable pull of destiny.
---
The Antarctica of Love by Sara Stridsberg (tr. Deborah Bragan-Turne) (Jan 18)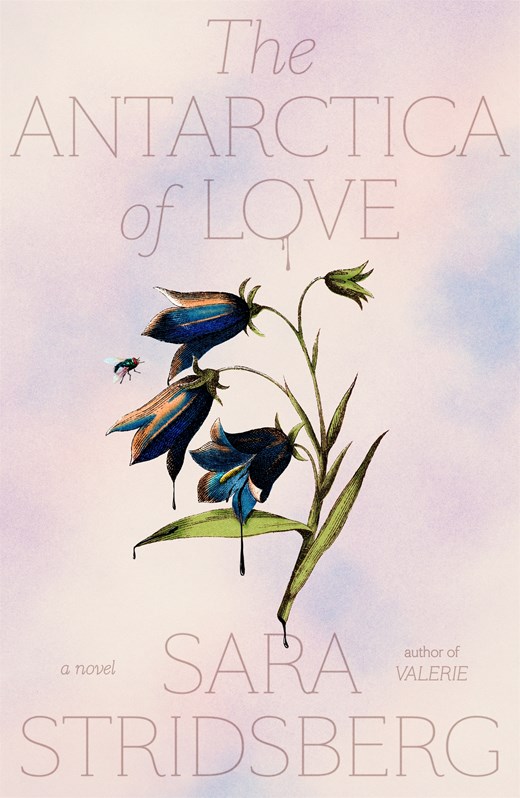 International star Sara Stridsberg returns with a riveting story from a woman at the margins—her murder, her short but full life, and the world that moves on after she is gone.
They say you die three times. The first time for me was when my heart stopped beating beneath his hands by the lake, and the second was when what was left of me was lowered into the ground in front of Ivan and Raksha at Bromma Church. The third time will be the last time my name is spoken on earth.

She was a neglected child, an unreliable mother, a sex worker, a drug user—and then, like so many, a nameless victim of a violent crime. But first she was a human being, a full, complicated person, and she insists that we know her fully as she tells her story from beyond the grave. We witness her short life, the harrowing murder that ended it, and her grief over the loved ones she has left behind. We see her parents struggle with guilt and loss. We watch her children grow up in adopted families and patch together imperfect lives. We feel her dreams, fears, and passions. And still we will never know her name.

A heartrending novel of life after death, Sara Stridsberg's The Antarctica of Love is an unflinching testament of a woman on the margins, a tale of family lost and found, a report of a murder in the voice of the victim, and a story that brims with unexpected tenderness and hope.
---
Seasons of Purgatory by Shahriar Mandanipour (tr. Sara Khalili) (Jan 25)
The first English-language story collection from "one of Iran's most important living fiction writers" (Guardian)
The first English-language story collection from "one of Iran's most important living fiction writers" (Guardian)
In Seasons of Purgatory, the fantastical and the visceral merge in tales of tender desire and collective violence, the boredom and brutality of war, and the clash of modern urban life and rural traditions. Mandanipour, banned from publication in his native Iran, vividly renders the individual consciousness in extremis from a variety of perspectives: young and old, man and woman, conscript and prisoner. While delivering a ferocious social critique, these stories are steeped in the poetry and stark beauty of an ancient land and culture.
Shahriar Mandanipour is an award-winning, exiled Iranian author and journalist who served in the Iran-Iraq war. His fiction has been published throughout the world, including two acclaimed novels published in English. He lives in California.
---
Strangers I Know by Claudia Durastanti (tr. Elizabeth Harris) (Jan 25)
A work of fiction about being a stranger in your own family and life.
Every family has its own mythology, but in this family none of the myths match up. Claudia's mother says she met her husband when she stopped him from jumping off a bridge. Her father says it happened when he saved her from an attempted robbery. Both parents are deaf but couldn't be more different; they can't even agree on how they met, much less who needed saving.
Into this unlikely yet somehow inevitable union, our narrator is born. She comes of age with her brother in this strange, and increasingly estranged, household split between a small village in southern Italy and New York City. Without even sign language in common – their parents have not bothered to teach them – family communications are chaotic and rife with misinterpretations, by turns hilarious and devastating. An outsider in every way, she longs for a freedom she's not even sure exists. Only books and punk rock—and a tumultuous relationship—begin to show her the way to create her own mythology, to construct her own version of the story of her life.
Kinetic, formally dazzling, and spectacularly original, this book is a funny and profound portrait of an unconventional family that makes us look anew at how language shapes our understanding of ourselves.
---
The Employees by Olga Ravn (tr. Martin Aitken) (Feb 1)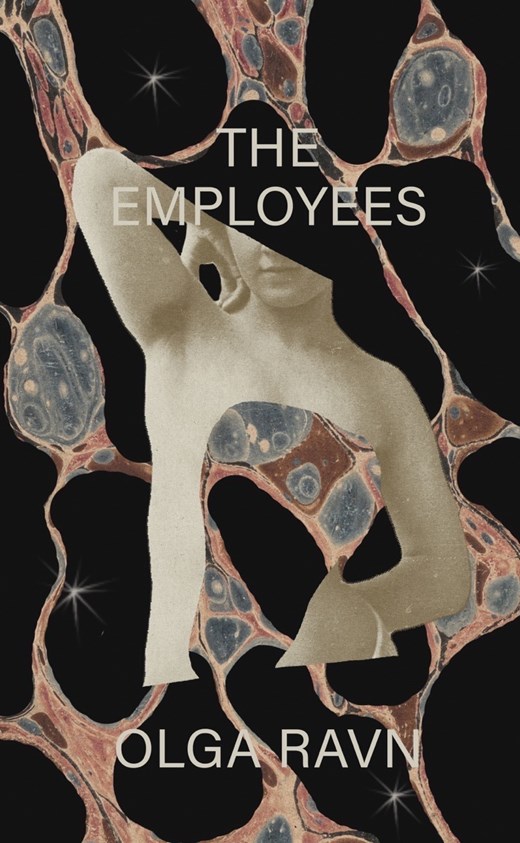 Shortlisted for the International Booker prize, The Employees reshuffles a sci-fi voyage into a riotously original existential nightmare
Funny and doom-drenched, The Employees chronicles the fate of the Six-Thousand Ship. The human and humanoid crew members complain about their daily tasks in a series of staff reports and memos. When the ship takes on a number of strange objects from the planet New Discovery, the crew becomes strangely and deeply attached to them, even as tensions boil toward mutiny, especially among the humanoids.
Olga Ravn's prose is chilling, crackling, exhilarating, and foreboding. The Employees probes into what makes us human, while delivering a hilariously stinging critique of life governed by the logic of productivity.
---
The Wind Whistling in the Cranes by Lidia Jorge (tr. Margaret Jull Costa and Annie McDermott) (Feb 8)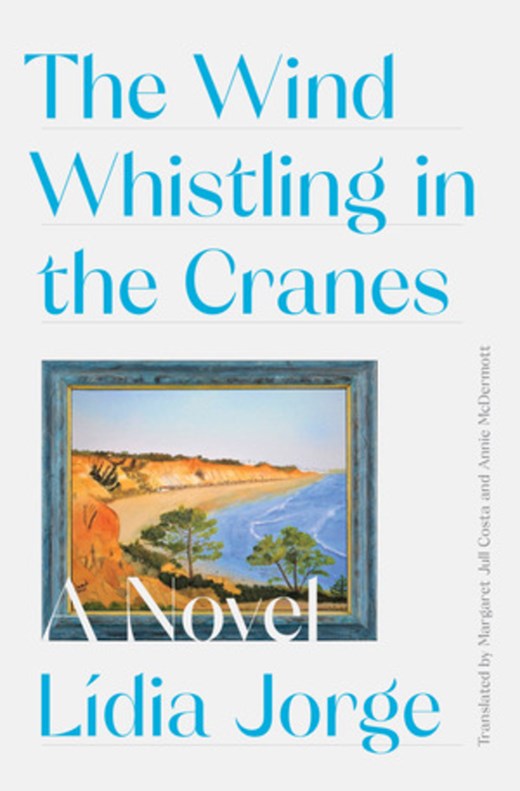 From the winner of the prestigious FIL Prize in Romance Languages comes this masterpiece saga, set in the twilight of the late twentieth century, of two clashing families in coastal Portugal.
With the grand sweep of Elena Ferrante's Neapolitan novels, this enduring tale transports us to a picturesque seaside town haunted by its colonial past.
Considered one of Europe's most influential contemporary writers, Portuguese novelist Lídia Jorge has captivated international audiences for decades. With the publication of The Wind Whistling in the Cranes, English-speaking readers can now experience the thrum of her signature poetic style and her delicately braided multicharacter plotlines, and witness the heroic journey of one of the most maddening, and endearing, characters in literary fiction.
Exquisitely translated by Margaret Jull Costa and Annie McDermott, this breathtaking saga, set in the now-distant 1990s, tells the story of the landlords and tenants of a derelict canning factory in southern Portugal. The wealthy, always-scheming Leandros have owned the building since before the Carnation Revolution, a peaceful coup that toppled a four-decade-long dictatorship and led to Portugal's withdrawal from its African colonies. It was Leandro matriarch Dona Regina who handed the keys to the Matas, the bustling family from Cape Verde who saw past the dusty machinery and converted the space into a warm—and welcoming—home.
When Dona Regina is found dead outside the factory on a holiday weekend, her body covered in black ants, her granddaughter, Milene, investigates. Aware that her aunts and uncles, who are off on vacation, will berate her inability to articulate what has just happened, she approaches the factory riddled with anxiety. Hours later, the Matas return home to find this strange girl hiding behind their clotheslines, and with caution, they take her in . . .
"Some said that Milene had been found wandering near the golf course. . . . Still others that she must have spent those five days at the beach, eating raw fish and sleeping out in the open . . ."
Days later, the Leandros realize that Milene has become hopelessly entangled with their tenants, and their fear of political and financial ruin sets off a series of events that threatens to uproot the lives of everyone involved. Narrated with passionate, incandescent prose, The Wind Whistling in the Cranes establishes Lídia Jorge as a novelist of extraordinary international resonance.
---
Blood Feast : The Complete Short Stories of Malika Moustadraf by Malika Moustadraf (tr. Alice Guthrie) (Feb 8)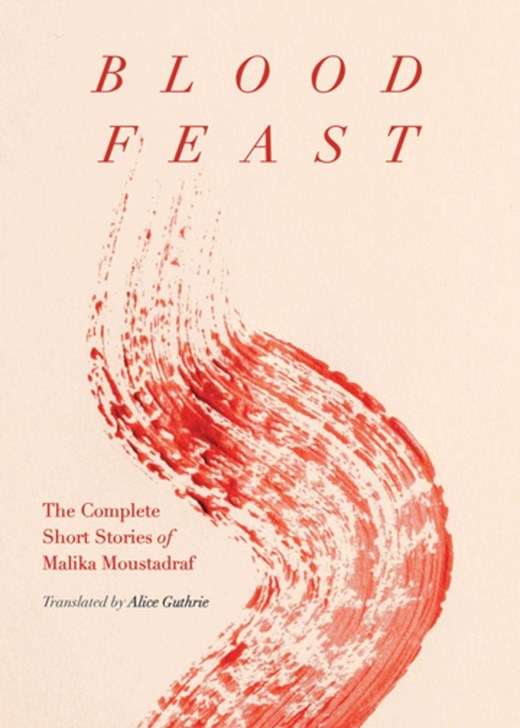 An arabophone cult classic traces the impact of power, abuse, and illness on the body, by Morocco's foremost writer of life on the margins.
A cult classic by Morocco's foremost writer of life on the margins.
Malika Moustadraf (1969–2006) is a feminist icon in contemporary Moroccan literature, celebrated for her stark interrogation of gender and sexuality in North Africa.
Blood Feast is the complete collection of Moustadraf's published short fiction: haunting, visceral stories by a master of the genre. A teenage girl suffers through a dystopian rite of passage​,​ a man with kidney disease makes desperate attempts to secure treatment​, and a mother schemes to ensure her daughter passes a virginity test.
Delighting in vibrant sensory detail and rich slang, Moustadraf takes an unflinching look at the gendered body, social class, illness, double standards, and desire, as lived by a diverse cast of characters. Blood Feast is a sharp provocation to patriarchal power and a celebration of the life and genius of one of Morocco's preeminent writers.
---
Jawbone by Mónica Ojeda (tr. Sarah Booker) (Feb 8)
"Was desire something like being possessed by a nightmare?"
Fernanda and Annelise are so close they are practically sisters: a double image, inseparable. So how does Fernanda end up bound on the floor of a deserted cabin, held hostage by one of her teachers and estranged from Annelise?
When Fernanda, Annelise, and their friends from the Delta Bilingual Academy convene after school, Annelise leads them in thrilling but increasingly dangerous rituals to a rhinestoned, Dior-scented, drag-queen god of her own invention. Even more perilous is the secret Annelise and Fernanda share, rooted in a dare in which violence meets love. Meanwhile, their literature teacher Miss Clara, who is obsessed with imitating her dead mother, struggles to preserve her deteriorating sanity. Each day she edges nearer to a total break with reality.
Interweaving pop culture references and horror concepts drawn from from Herman Melville, H. P. Lovecraft, and anonymous "creepypastas," Jawbone is an ominous, multivocal novel that explores the terror inherent in the pure potentiality of adolescence and the fine line between desire and fear.
---
Pyre by Perumal Murugan (tr. Aniruddhan Vasudevan) (Feb 15)
From the author of One Part Woman and The Story of a Goat, both longlisted for the National Book Award for Translation, comes a poignant and startling novel about love, caste, and intolerance
Profiled in both the New Yorker and the New York Times, Perumal Murugan is one of India's highest selling and most respected literary writers, and Pyre is perhaps his most beloved work. Saroja and Kumaresan are young and in love. After meeting in a small southern Indian town where Kumaresan works at a soda bottling shop, they quickly marry before returning to Kumaresan's family village, where they hope to build a happy life together. But they are harboring a terrible secret: Saroja is from a different caste than Kumaresan, and if the villagers find out, they will both be in grave danger. Faced with venom from her mother-in-law and questions from her new neighbors, Saroja tries to adjust to a new lonely and uncomfortable life, while Kumaresan struggles to scrape together enough money for them to start over somewhere new. Will their love keep them safe in a world filled with thorns? In evocative prose, Perumal Murugan masterfully conjures a moving tale of innocent young love pitted against chilling violence.
---
Woman Running in the Mountains by Yuko Tsushima (tr. Geraldine Harcourt) (Feb 22)
Set in 1970s Japan, this tender and poetic novel about a young, single mother struggling to find her place in the world is an early triumph by a modern Japanese master.
Alone at dawn, in the heat of midsummer, a young woman named Takiko Odaka departs on foot for the hospital to give birth to a baby boy. Her pregnancy, the result of a brief affair with a married man, is a source of sorrow and shame to her abusive parents. For Takiko, however, it is a cause for reverie. Her baby, she imagines, will be hers and hers alone, a challenge that she also hopes will free her. Takiko's first year as a mother is filled with the intense bodily pleasures and pains that come from caring for a newborn. At first she seeks refuge in the company of other women—in the hospital, in her son's nursery—but as the baby grows, her life becomes less circumscribed as she explores Tokyo, then ventures beyond the city into the countryside, toward a mountain that captures her imagination and desire for a wilder freedom.
---
Scattered All Over the Earth by Yoko Tawada (tr. Margaret Mitsutani) (March 1)
A mind-expanding, cheerfully dystopian new novel by Yoko Tawada, winner of the National Book Award
Welcome to the not-too-distant future: Japan, having vanished from the face of the earth, is now remembered as "the land of sushi." Hiruko, its former citizen and a climate refugee herself, has a job teaching immigrant children in Denmark with her invented language Panska (Pan-Scandinavian): "homemade language. no country to stay in. three countries I experienced. insufficient space in brain. so made new language. homemade language."
As she searches for anyone who can still speak her mother tongue, Hiruko soon makes new friends. Her troupe travels to France, encountering an umami cooking competition; a dead whale; an ultra-nationalist named Breivik; unrequited love; Kakuzo robots; red herrings; uranium; an Andalusian matador. Episodic and mesmerizing scenes flash vividly along, and soon they're all next off to Stockholm.
With its intrepid band of companions, Scattered All Over the Earth (the first novel of a trilogy) may bring to mind Alice's Adventures in Wonderland or a surreal Wind in the Willows, but really is just another sui generis Yoko Tawada masterwork.
---
Lucky Breaks by Yevgenia Belorusets (tr. Eugene Ostashevsky) (March 1)
Powerful, off-beat stories about women living in the shadow of the now-frozen, now-thawing war in Ukraine
Out of the impoverished coal regions of Ukraine known as the Donbass, where Russian secret military intervention coexists with banditry and insurgency, the women of Yevgenia Belorusets's captivating collection of stories emerge from the ruins of a war, still being waged on and off, ever since the 2014 Revolution of Dignity. Through a series of unexpected encounters, we are pulled into the ordinary lives of these anonymous women: a florist, a cosmetologist, card players, readers of horoscopes, the unemployed, and a witch who catches newborns with a mitt. One refugee tries unsuccessfully to leave her broken umbrella behind as if it were a sick relative; a private caregiver in a disputed zone saves her elderly charge from the angel of death; a woman sits down on International Women's Day and can no longer stand up; a soldier decides to marry war. Belorusets threads these tales of ebullient survival with a mix of humor, verisimilitude, the undramatic, and a profound Gogolian irony. She also weaves in twenty-three photographs that, in lyrical and historical counterpoint, form their own remarkable visual narrative.
---
Song for the Missing Pierre Jarawan (tr. Elisabeth Lauffer) (April 5)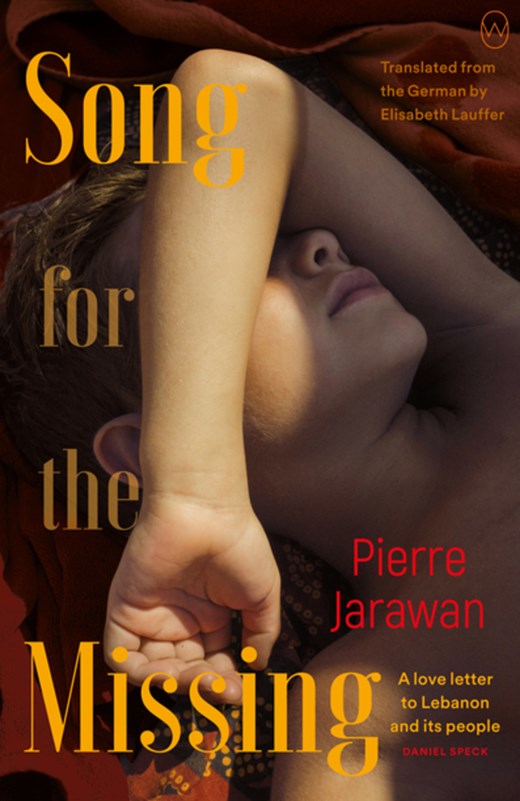 It's 2011 and the Arab Spring is in full bloom when the discovery of two bodies in Beirut sows the first seeds of unrest in Lebanon. With houses already burning, Amin sets out to write down his memories of the country: Of the year 1994, when he returned as a teenager with his grandmother, twelve years after his parents' deaths. Of his friendship with Jafar, the boy who explored the desolate postwar landscape with him. And of the painful discovery that there will never be certainty—neither about his friend's past nor his family's history. In this novel full of mystery and suspense, friendship and loss, searches and secrets, Jarawan skillfully interweaves a deeply personal story with the tumultuous history of the Middle East.
---
Paradais by Fernanda Melchor (tr. Sophie Hughes) (April 12)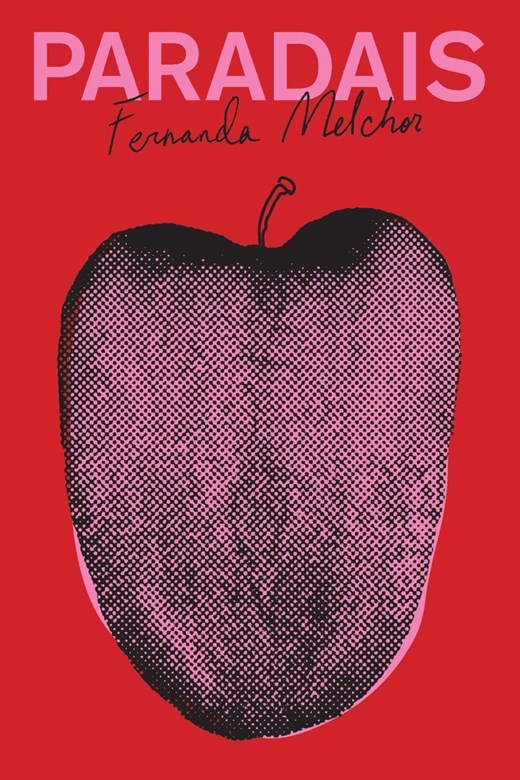 Author of the acclaimed novel Hurricane Season, Fernanda Melchor leads us into a different kind of hell: paradise
Inside a luxury housing complex, two misfit teenagers sneak around and get drunk. Franco Andrade, lonely, overweight, and addicted to porn, obsessively fantasizes about seducing his neighbor—an attractive married woman and mother—while Polo dreams about quitting his grueling job as a gardener within the gated community and fleeing his overbearing mother and their narco-controlled village. Each facing the impossibility of getting what he thinks he deserves, Franco and Polo hatch a mindless and macabre scheme.
Written in a chilling torrent of prose by one of our most thrilling new writers, Paradais explores the explosive fragility of Mexican society—with its racist, classist, hyperviolent tendencies—and how the myths, desires, and hardships of teenagers can tear life apart at the seams.
---
Violets by Kyung-Sook Shin (tr. Anton Hur) (April 12)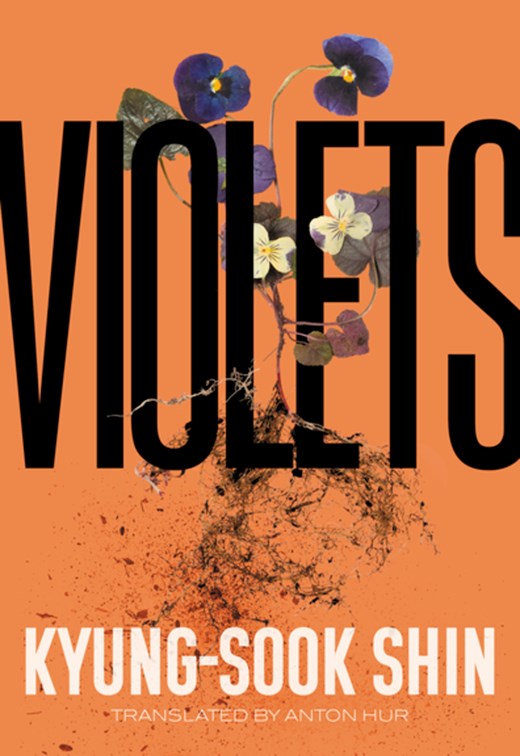 By Man Asian Literary Prize winner Kyung-Sook Shin, "a moving delve into a lonely psyche" that follows a neglected young woman's search for human connection in contemporary Seoul (YZ Chin).
San is twenty-two and alone when she happens upon a job at a flower shop in Seoul's bustling city center. Haunted by childhood rejection, she stumbles through life—painfully vulnerable, stifled, and unsure. She barely registers to others, especially by the ruthless standards of 1990s South Korea.
Over the course of one hazy, volatile summer, San meets a curious cast of characters: the nonspeaking shop owner, a brash coworker, quiet farmers, and aggressive customers. Fueled by a quiet desperation to jump-start her life, she plunges headfirst into obsession with a passing magazine photographer.
In Violets, best-selling author Kyung-Sook Shin explores misogyny, erasure, and repressed desire, as San desperately searches for both autonomy and attachment in the unforgiving reality of contemporary Korean society.
---
At the Edge of the Woods by Masatsugu Ono (tr. Juliet Winters Carpenter)  (April 12)
Balances wonder and disquiet with incomparable grace and precision…Ono continues to captivate." —Bryan Washington, author of Memorial
In an unnamed foreign country, a family of three is settling into a house at the edge of the woods. But something is off. A sound, at first like coughing and then like laughter, emanates from the nearby forest. Fantastical creatures, it is said, live out there in a castle where feudal lords reigned and Resistance fighters fell. When the mother, fearing another miscarriage, returns to her family's home to give birth to a second child, father and son are left to their own devices in rural isolation. Haunted by the ever-present woods, they look on as the TV flashes with floods and processions of refugees. The boy brings a mysterious half-naked old woman home, but before the father can make sense of her presence, she disappears. A mail carrier with gnashing teeth visits to deliver nothing but gossip of violence. A tree stump in the yard refuses to die, no matter how generously the poison is applied.
An allegory for alienation and climate catastrophe unlike any other, At the Edge of the Woods is a psychological tale where myth and fantasy are not the dominion of childhood innocence but the poison fruit borne of the paranoia and violence of contemporary life.
"Balances wonder and disquiet with incomparable grace and precision…Ono continues to captivate." —Bryan Washington, author of Memorial
In an unnamed foreign country, a family of three is settling into a house at the edge of the woods. But something is off. A sound, at first like coughing and then like laughter, emanates from the nearby forest. Fantastical creatures, it is said, live out there in a castle where feudal lords reigned and Resistance fighters fell. When the mother, fearing another miscarriage, returns to her family's home to give birth to a second child, father and son are left to their own devices in rural isolation. Haunted by the ever-present woods, they look on as the TV flashes with floods and processions of refugees. The boy brings a mysterious half-naked old woman home, but before the father can make sense of her presence, she disappears. A mail carrier with gnashing teeth visits to deliver nothing but gossip of violence. A tree stump in the yard refuses to die, no matter how generously the poison is applied.
An allegory for alienation and climate catastrophe unlike any other, At the Edge of the Woods is a psychological tale where myth and fantasy are not the dominion of childhood innocence but the poison fruit borne of the paranoia and violence of contemporary life.
---
Concerning My Daughter by Kim Hye-Jin (tr. Jamie Chang) (April 14)*
When an ageing mother allows her thirty-something daughter to move into her apartment, she wants for her what many mothers might say they want for their child: a steady income, and, even better, a good husband with a good job with whom to start a family.

But when Green turns up with her girlfriend, Lane, in tow, her mother is unprepared and unwilling to welcome Lane into her home. In fact, she can barely bring herself to be civil. Having centred her life on her husband and child, her daughter's definition of family is not one she can accept. Her daughter's involvement in a case of unfair dismissal involving gay colleagues from the university where she works is similarly strange to her.

And yet when the care home where she works insists that she lower her standard of care for an elderly dementia patient who has no family, who travelled the world as a successful diplomat, who chose not to have children, Green's mother cannot accept it. Why should not having chosen a traditional life mean that your life is worth nothing at all?
---
Animals in Our Days: A Book of Stories by Mohamed Makhzangi (tr. Chip Rossetti) (April 15)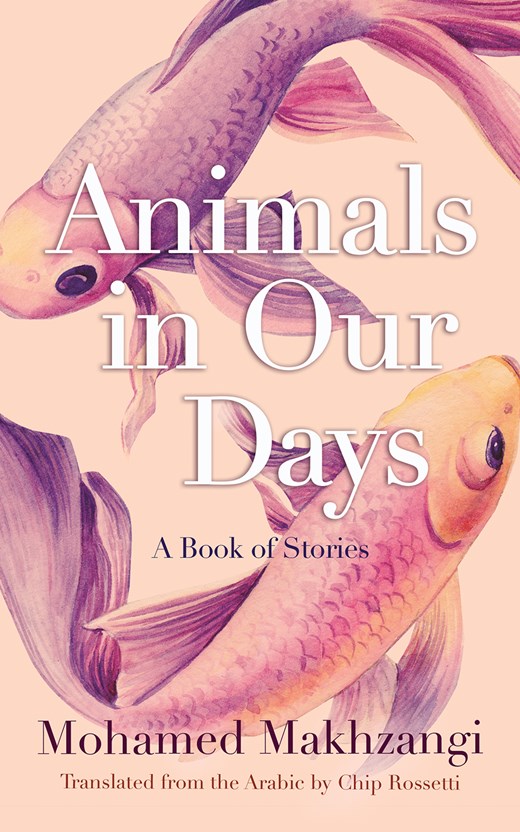 An unflinching collection of short stories by acclaimed Egyptian author Mohamed Makhzangi, who has a keen and sensitive eye for the behavior of animals-especially homo sapiens.
Each story in Mohamed Makhzangi's unique collection Animals in Our Days features a different animal species and its fraught relationship with humans—water buffalo in a rural village gone mad from electric lights, brass grasshoppers purchased in a crowded Bangkok market, or ghostly rabbits that haunt the site of a long-ago brutal military crackdown. Other stories tell of bear-trainers in India and of the American invasion of Iraq as experienced by a foal, deer, and puppies.

Originally published in 2006, Makhzangi's stories are part of a long tradition of writings on animals in Arabic literature. In this collection, animals offer a mute testament to the brutality and callousness of humanity, particularly when modernity sunders humans from the natural environment. Makhzangi is one of Egypt's most perceptive and nuanced authors, merging a writer's empathy with a scientist's curiosity about the world.

Like Barbara Kingsolver's Flight Behavior, Haruki Murakami's The Elephant Vanishes, or J. M. Coetzee's Lives of Animals, Makhzangi's stories trace the numinous, almost supernatural, connections between our species and others. In these resonant, haunting tales, Animals in Our Days foregrounds our urgent need to reacquire the sense of awe, humility, and respect that once characterized our relationship with animals.
---
The Trouble with Happiness: And Other Stories by Tove Ditlevsen (tr. Michael Favala Goldman) (April 19)
A short-story collection from the acclaimed author of the Copenhagen Trilogy, never before translated in English.
A newly married woman longs, irrationally, for a silk umbrella; a husband chases away his wife's beloved cat; a betrayed mother impulsively sacks her housekeeper. Underneath the surface of these precisely observed tales of marriage and family life in mid-century Copenhagen pulse currents of desire, violence, and despair, as women and men struggle to escape from the roles assigned to them and dream of becoming free and happy—without ever truly understanding what that might mean.

Tove Ditlevsen is one of Denmark's most famous and beloved writers, and her autobiographical Copenhagen Trilogywas hailed as a masterpiece on re-publication in English, lauded for its wry humor, limpid prose, and powerful honesty. The poignant and understated stories in The Trouble with Happiness, written in the 1950s and 1960s and never before translated into English, offer readers a new chance to encounter the quietly devastating work of this essential twentieth-century writer.
---
Rouge Street : Three Novellas by Shuang Xuetao (tr. Jeremy Tiang) (April 19)
From one of the most highly celebrated young Chinese writers, three dazzling novellas of Northeast China, mixing realism, mysticism, and noir.
An inventor dreams of escaping his drab surroundings in a flying machine. A criminal, trapped beneath a frozen lake, fights a giant fish. A strange girl pledges to ignite a field of sorghum stalks.

Rouge Street presents three novellas by Shuang Xuetao, the lauded young Chinese writer whose frank, fantastical short fiction has already inspired comparisons to Ernest Hemingway and Haruki Murakami. Located in China's frigid northeast, Shenyang, the author's birthplace, boasts an illustrious past—legend holds that the emperor's makeup was manufactured here. But while the city enjoyed renewed importance as an industrial hub under Mao Zedong, China's subsequent transition from communism to a market economy led to an array of social ills—unemployment, poverty, alcoholism, domestic violence, divorce, suicide—which gritty Shenyang epitomizes.

Orbiting the toughest neighborhood of a postindustrial city whose vast, inhospitable landscape makes every aspect of life a struggle, these many-voiced missives are united by Shuang Xuetao's singular style—one which balances hardscrabble naturalism with the transcendent, and faces the bleak environs with winning humor. Lyrical, masterful, Rouge Street illuminates not only the hidden pains of those left behind in an extraordinary economic boom, but also the unlikely, nourishing grace they, nevertheless, manage to discover.
---
All the Lovers in the Night by Mieko Kawakami (tr. Sam Bett and David Boyd) (May 3)
Bestselling author of Breasts and Eggs Mieko Kawakami invites readers back into her immediately recognizable fictional world with this new, extraordinary novel and demonstrates yet again why she is one of today's most uncategorizable, insightful, and talented novelists.
Fuyuko Irie is a freelance copy editor in her mid-thirties. Working and living alone in a city where it is not easy to form new relationships, she has little regular contact with anyone other than her editor, Hijiri, a woman of the same age but with a very different disposition. When Fuyuko stops one day on a Tokyo street and notices her reflection in a storefront window, what she sees is a drab, awkward, and spiritless woman who has lacked the strength to change her life and decides to do something about it.
As the long overdue change occurs, however, painful episodes from Fuyuko's past surface and her behavior slips further and further beyond the pale. All the Lovers in the Night is acute and insightful, entertaining and engaging; it will make readers laugh, and it will make them cry, but it will also remind them, as only the best books do, that sometimes the pain is worth it.
---
Bitter Orange Tree by Jokha Alharthi (tr. Marilyn Booth) (May 10)
An extraordinary novel from a Man Booker International Prize-winning author that follows one young Omani woman as she builds a life for herself in Britain and reflects on the relationships that have made her from a "remarkable" writer who has "constructed her own novelistic form" (James Wood, The New Yorker).
From Man Booker International Prize–winning author Jokha Alharthi, Bitter Orange Tree is a profound exploration of social status, wealth, desire, and female agency. It presents a mosaic portrait of one young woman's attempt to understand the roots she has grown from, and to envisage an adulthood in which her own power and happiness might find the freedom necessary to bear fruit and flourish.

Zuhour, an Omani student at a British university, is caught between the past and the present. As she attempts to form friendships and assimilate in Britain, she can't help but ruminate on the relationships that have been central to her life. Most prominent is her strong emotional bond with Bint Amir, a woman she always thought of as her grandmother, who passed away just after Zuhour left the Arabian Peninsula.

As the historical narrative of Bint Amir's challenged circumstances unfurls in captivating fragments, so too does Zuhour's isolated and unfulfilled present, one narrative segueing into another as time slips and dreams mingle with memories.
---
Mister N by Najwa Barakat (tr. Luke Leafgren) (May 17)
A master of contemporary Arabic fiction returns to English translation with a cunningly layered dark comedy about the powers and limits of creativity in a war zone.
Modern-day Beirut is seen through the eyes of a failed writer, the eponymous Mister N. He has left his comfortable apartment and checked himself into a hotel—he thinks. Certainly, they take good care of him there. Meanwhile, on the streets below, a grim pageant: there is desperate poverty, the ever-present threat of violence, and masses of Syrian refugees planning to reach Europe via a dangerous sea passage.
How is anyone supposed to write deathless prose in such circumstances? Let alone an old man like Mister N., whose life and memories have become scattered, whose family regards him as an embarrassment, and whose next-door neighbours torment him with their noise, dinner invitations, and inconvenient suicides. Comical and tragic by turns, his misadventures climax in the arrival in what Mister N. had supposed to be his "real life" of a character from one of his early novels—a vicious militiaman and torturer. Now, does the old writer need to arm himself . . . or just seek psychiatric help?
---
Three by Valérie Perrin (tr. Hildegarde Serle) (June 7)
From the international bestselling author of Fresh Water for Flowers, a beautifully told and suspenseful story about the ties that bind us and the choices that make us who we are.
1986: Adrien, Etienne and Nina are 10 years old when they meet at school and quickly become inseparable. They promise each other they will one day leave their provincial backwater, move to Paris, and never part.
2017: A car is pulled up from the bottom of the lake, a body inside. Virginie, a local journalist with an enigmatic past reports on the case while also reflecting on the relationship between the three friends, who were unusually close when younger but now no longer speak. . As Virginie moves closer to the surprising truth, relationships fray and others are formed.
Valérie Perrin has an unerring gift for delving into life. In Three, she brings readers along with her through a sequence of heart-wrenching events and revelations that span three decades. Three tells a moving story of love and loss, hope and grief, friendship and adversity, and of time as an ineluctable agent of change.
---
The Wall by Marlen Haushofer (tr. Shaun Whiteside) (June 21)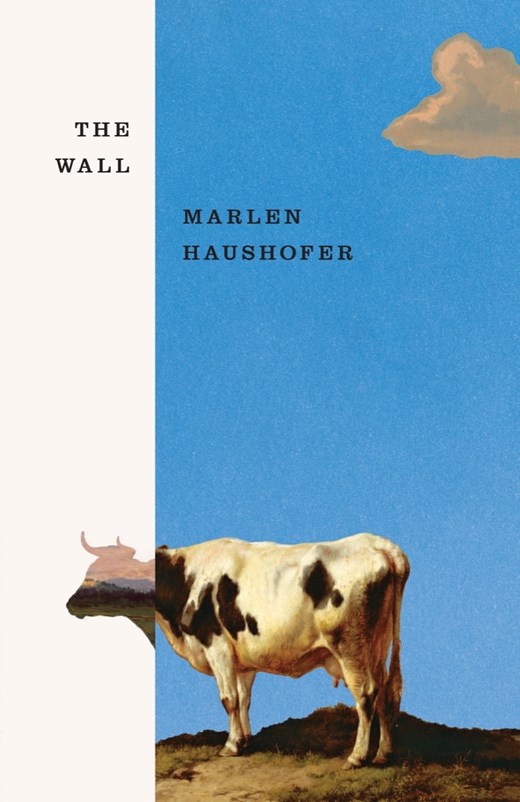 A haunting feminist sci-fi masterpiece and international bestseller that is "as absorbing as Robinson Crusoe" (Doris Lessing)
While vacationing in a hunting lodge in the Austrian mountains, a middle-aged woman awakens one morning to find herself separated from the rest of the world by an invisible wall. With a cat, a dog, and a cow as her sole companions, she learns how to survive and cope with her loneliness.
Allegorical yet deeply personal and absorbing, The Wall is at once a critique of modern civilization, a nuanced and loving portrait of a relationship between a woman and her animals, a thrilling survival story, a Cold War-era dystopian adventure, and a truly singular feminist classic.
---
Alindarka's Children: Things Will Be Bad by Alhierd Bacharevic (tr. Jim Dingley and Petra Reid) (June 21)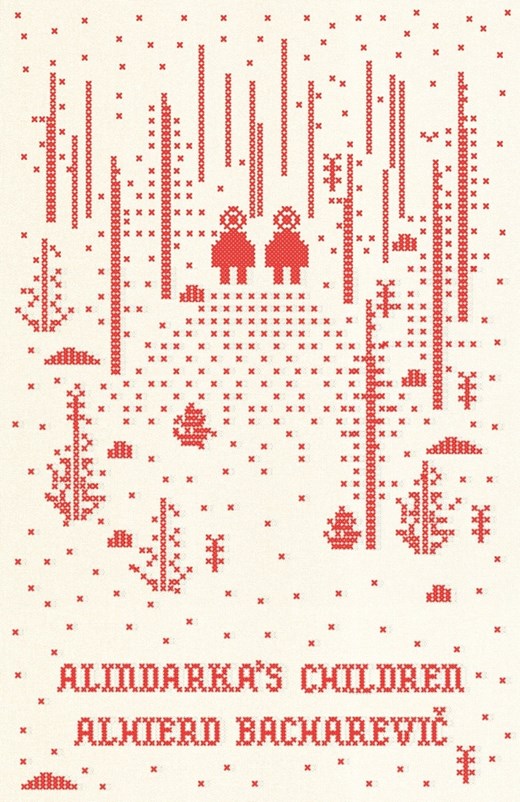 Alindarka's Children is the masterful English debut of Alhierd Bacharevic, a new voice from Belarus
Alicia and her brother Avi are imprisoned in a camp on the edge of a forest. There, children are trained to forget their language through therapy, coercion, drugs, and larynx surgery. The Leid (or Belarusian language) is considered a perversion or sickness to be cured and replaced by the only pure form of language, the Lingo (Russian). But the children slip away through a hole in the fence. Abducted by their father—who had been performing his own dubious experiments—the siblings soon escape him, too, and set out on their own. Pursued by many, the little boy and girl use an antique map of Germany which leads them closer to a checkpoint—and great danger.
A contemporary Hansel and Gretel tale told in exhilarating, prickly, and slippery prose, Alindarka's Children is a manifesto for the survival of the Belarusian language and soul. A feat of translation, Bacharevic's story is brilliantly rendered into English and Scots from Russian and Belarusian.
---
Three Streets by Yoko Tawada (tr. Margaret Mitsutani) (July 5)
Yoko Tawada—winner of the National Book Award—presents three terrific new ghost stories, each named after a street in Berlin
The always astonishing Yoko Tawada here takes a walk on the supernatural side of the street. In "Kollwitzstrasse," as the narrator muses on former East Berlin's new bourgeois health food stores, so popular with wealthy young people, a ghost boy begs her to buy him the old-fashioned sweets he craves. She worries that sugar's still sugar—but why lecture him, since he's already dead? Then white feathers fall from her head and she seems to be turning into a crane . . . Pure white kittens and a great Russian poet haunt "Majakowskiring": the narrator who reveres Mayakovsky's work is delighted to meet his ghost. And finally, in "Pushkin Allee," a huge Soviet-era memorial of soldiers comes to life—and, "for a scene of carnage everything was awfully well-ordered." Each of these stories opens up into new dimensions the work of this magisterial writer.
---
Where Dogs Bark with Their Tails by Estelle-Sarah Bulle (tr. Julia Grawemeyer) (July 5)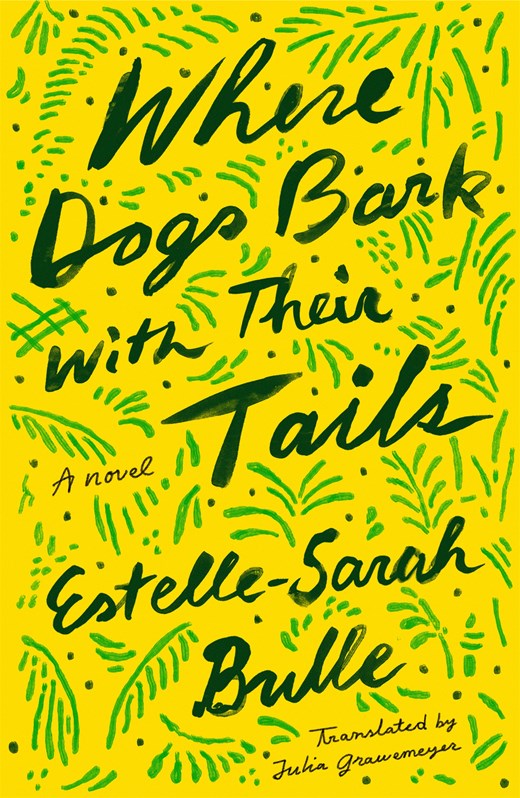 The tales of one family and their larger-than-many-lives sister, Antoine, weaves together the vibrant, epic story of Guadaloupe and its diaspora.
A young woman born in the suburbs of Paris—whose skin color and memories of occasional childhood visits alone connect her to her father's native Guadeloupe—yearns to understand her lineage and her métis identity. Upon her request, her old aunt Antoine, the eccentric and indomitable family matriarch, unveils the history of the Ezechiel clan, and with it, that of the island over the course of the twentieth century.

In a spirited account, punctuated by interludes from other family members, Antoine tells her life story: a childhood spent deep in the countryside; an ill-fated romance between her upper-class mother and farmer father; the splendors and slums of the capital city, Pointe-à-Pitre; the eruption of modernity; the rifts in a deeply hierarchical society under colonial rule—and the reasons she left it all behind.

Through the unforgettable story of the Ezechiels, a richly textured account of the Guadeloupean diaspora emerges, spanning decades and crossing the Atlantic. With lush language and vivid storytelling, Estelle-Sarah Bulle's Where Dogs Bark with Their Tails examines the legacies of capitalism and colonialism, the loss of a beloved mother, what it means to be caught between worlds, and how we might reconcile past, present, and future.
---
Life Ceremony: Stories by Sayaka Murata (tr. Ginny Tapley Takemori) (July 5)
The long-awaited first short story-collection by the author of the cult sensation Convenience Store Woman, tales of weird love, heartfelt friendships, and the unsettling nature of human existence
With Life Ceremony, the incomparable Sayaka Murata is back with her first collection of short stories ever to be translated into English. In Japan, Murata is particularly admired for her short stories, which are sometimes sweet, sometimes shocking, and always imbued with an otherworldly imagination and uncanniness.
In these twelve stories, Murata mixes an unusual cocktail of humor and horror to portray both the loners and outcasts as well as turning the norms and traditions of society on their head to better question them. Whether the stories take place in modern-day Japan, the future, or an alternate reality is left to the reader's interpretation, as the characters often seem strange in their normality in a frighteningly abnormal world. In "A First-Rate Material," Nana and Naoki are happily engaged, but Naoki can't stand the conventional use of deceased people's bodies for clothing, accessories, and furniture, and a disagreement around this threatens to derail their perfect wedding day. "Lovers on the Breeze" is told from the perspective of a curtain in a child's bedroom that jealously watches the young girl Naoko as she has her first kiss with a boy from her class and does its best to stop her. "Eating the City" explores the strange norms around food and foraging, while "Hatchling" closes the collection with an extraordinary depiction of the fractured personality of someone who tries too hard to fit in.
In these strange and wonderful stories of family and friendship, sex and intimacy, belonging and individuality, Murata asks above all what it means to be a human in our world and offers answers that surprise and linger.
---
Bad Handwriting by Sara Mesa (tr. Katie Whittemore and Frances Riddle) (July 12)
Collection of eleven stories from the author of 2020's most acclaimed work of Spanish fiction.
From the author of the highly acclaimed Four by Four and Among the Hedges comes a collection of unsettling, captivating stories.
The eleven stories in this collection approach themes of childhood and adolescence, guilt and redemption, power and freedom. There are children who resist authority and experience the process of growing up with shock, and loneliness; alienated young girls whose rebellion lies under the surface—subterranean, furious and impotent; people who are tormented—or not—by regret and doubt, addicted to feelings of culpability; men who take advantage of women and adults who exercise power over children with a disturbing degree of control; kids abandoned by their parents; the suicide of the elderly and the young; lives that hide crimes—both real and imagined. Eschewing cosmopolitanism in favor of the micro-world of her characters, Mesa depicts a reality that is messy and disturbing, on even the smallest scale of an individual life, a single family.
---
Pina by Titaua Peu (tr. Jeffrey Zuckerman) (July 26)
Winner of the 2017 Eugène Dabit Prize
Winner of the 2019 French Voices Grand Prize
From award-winning Tahitian author Titaua Peu comes Pina, a devastating novel about a family torn apart by secrets and the legacy of colonialism, held together by nine-year-old Pina, a girl shouldering the immeasurable weight of her family's traumas.
Far from Tahiti's postcard-perfect beaches, Ma and Auguste and five of their nine children live a hand-to-mouth life in destitute, run-down Tenaho. Nine-year-old Pina, abused and neglected in equal measure, is the keeper of her family's secrets, though the weight of this knowledge soon proves to be a burden no child could ever bear.
A victim of her father's alcoholic rages and the object of her mother's anger and indifference, Pina protects her younger sister, Moïra, as best she can, but a tragic accident upsets the precarious equilibrium of the family, setting them on a path to destruction. The fault lines of her family, descendants of Ma'ohi warriors who once fended off European settlers, begin to shift and crack open, laying bare how the past shapes and haunts the present: her brother Pauro falls in love with a Frenchman, her sister Rosa sinks into sexual exploitation as a futile means of escape, her eldest brother August Junior's addictions and temper may lead him into ruin, and Hannah, the oldest daughter who had escaped to France, is beckoned back home, fearing the worst.
Elegantly translated from the French by Jeffrey Zuckerman, Pina introduces a bold and profoundly humane anticolonial writer. It's a gut punch of a novel that traces the history of a family, an island, and a people, reaching back to a time before colonial rule and stretching into an imagined, hopeful future of independence and autonomy, offering the promise of redemption.
---
Diary of a Void by Emi Yagi (tr. David Boyd and Lucy North) (August 9)
A prizewinning, thrillingly subversive debut novel about a woman in Japan who avoids harassment at work by perpetuating, for nine months and beyond, the lie that she's pregnant
When thirty-four-year-old Ms. Shibata gets a new job in Tokyo to escape sexual harassment at her old one, she finds that, as the only woman at her new workplace—a company that manufactures cardboard tubes—she is expected to do all the menial tasks. One day she announces that she can't clear away her colleagues' dirty cups—because she's pregnant and the smell nauseates her. The only thing is…Ms. Shibata is not pregnant.
Pregnant Ms. Shibata doesn't have to serve coffee to anyone. Pregnant Ms. Shibata isn't forced to work overtime. Pregnant Ms. Shibata rests, watches TV, takes long baths, and even joins an aerobics class for expectant mothers. But pregnant Ms. Shibata also has a nine-month ruse to keep up. Helped along by towel-stuffed shirts and a diary app on which she can log every stage of her "pregnancy," she feels prepared to play the game for the long haul. Before long, though, the hoax becomes all-absorbing, and the boundary between her lie and her life begins to dissolve.
---
The Pachinko Parlour by Elisa Shua Dusapin (tr. Aneesa Abbas Higgins) (August 18)*
The days are beginning to draw in. The sky is dark by seven in the evening. I lie on the floor and gaze out of the window. Women's calves, men's shoes, heels trodden down by the weight of bodies borne for too long.
It is summer in Tokyo. Claire finds herself dividing her time between tutoring twelve-year-old Mieko, in an apartment in an abandoned hotel, and lying on the floor at her grandparents: daydreaming, playing Tetris and listening to the sounds from the street above. The heat rises; the days slip by.
The plan is for Claire to visit Korea with her grandparents. They fled the civil war there over fifty years ago, along with thousands of others, and haven't been back since. When they first arrived in Japan, they opened Shiny, a pachinko parlour. Shiny is still open, drawing people in with its bright, flashing lights and promises of good fortune. And as Mieko and Claire gradually bond, a tender relationship growing, Mieko's determination to visit the pachinko parlour builds.
The Pachinko Parlour is a nuanced and beguiling exploration of identity and otherness, unspoken histories, and the loneliness you can feel amongst family. Crisp and enigmatic, Shua Dusapin's writing glows with intelligence.
---
Table for One: Stories by Yun Ko-eun (tr. Lizzie Buehler) (Sep 20)
In these indelible short stories, contemporary South Korean author Yun Ko-eun conjures up slightly off-kilter worlds tucked away in the corners of everyday life. Throughout Table for One, comedy and an element of the surreal are interwoven with the hopelessness and loneliness that pervades the protagonists' decidedly mundane lives.
An office worker who has no one to eat lunch with enrolls in a course that builds confidence about eating alone. A man with a pathological fear of bedbugs offers up his body to save his building from infestation. A time capsule in Seoul is dug up hundreds of years before it was intended to be unearthed. A vending machine repairman finds himself trapped in a shrinking motel during a never-ending snowstorm.
In these and other indelible short stories, contemporary South Korean author Yun Ko-eun conjures up slightly off-kilter worlds tucked away in the corners of everyday life. Her fiction is bursting with images that toe the line between realism and the fantastic. Throughout Table for One, comedy and an element of the surreal are interwoven with the hopelessness and loneliness that pervades the protagonists' decidedly mundane lives. Yun's stories focus on solitary city dwellers, and her eccentric, often dreamlike humor highlights their sense of isolation. Mixing quirky and melancholy commentary on densely packed urban life, she calls attention to the toll of rapid industrialization and the displacement of traditional culture. Acquainting the English-speaking audience with one of South Korea's breakout young writers, Table for One presents a parade of misfortunes that speak to all readers in their unconventional universality.
---
---
Blog | Goodreads | Twitter | Instagram