---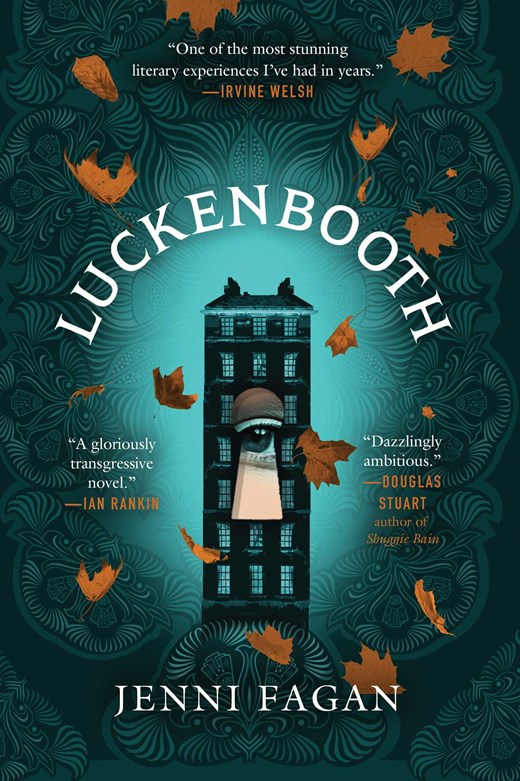 Luckenbooth was not a perfect book, but it was a very humane one–and for that I loved it.
To start, I think Luckenbooth is a novel that is, at its heart, about how fucked up the world can be. Not in a trite or hackneyed way, but in a way that simply calls attention to that reality. The story is split into three parts, each with three point-of-view characters, all of which are inevitably tied in one way or another to the titular, larger-than-life tenement that is No. 10 Luckenbooth. Beyond that one common thread, though, the characters that Fagan gives us here are distinct and varied: we have male and female characters, old and young characters, queer characters; there are demon girls and mediums and gangsters and poets. And despite their diverse backgrounds and experiences, what Fagan is really interested in is exploring the particular ways in which they are marginalized: by their class, or gender, or sexuality, or mental illness. To put it simply, then, Luckenbooth is a novel about power and how it manifests in the lives of those who fall outside it.
"There is the Edinburgh that is presented to tourists. Then the other one, which is considered to be the real Edinburgh, to the people who live here. There are the fancy hotels and shops and motorcars and trams and places of work, then are the slums, starvation, disease, addiction, prostitution, crime, little or no infrastructure, no plumbing, no clean water, no rights . . . if the council want to go and take their homes down, they do. This is all on streets just ten minutes' walk from the fancy city center. When will these things change? Everywhere? When? All fur coat and nae knickers. That's a phrase the postman told me. It embodies this city."
This is not to say, though, that Luckenbooth is a completely bleak or nihilistic novel, because it's decidedly not. I said I loved this book because it's humane, and what I mean by that is that it refuses to let its characters' marginalization overtake their humanity. Each and every point-of-view character in this novel is drawn so tenderly, and despite getting a relatively limited amount of time with them, you really get a feel for who these characters are–their thoughts, their feelings, their relationships, their heartbreaks. For me, this was one of the things that made this novel stand out: Fagan's ability to so deftly give each of her characters a distinct and authentic narrative voice. Every point of view in this book evokes its corresponding character, and that is no easy feat considering how many characters (nine) we meet over the course of this novel. That being said, there were definitely POVs that I enjoyed more than others: I think Part I was easily the strongest one of the three–I especially loved Jessie and Flora's chapters–and there were a few POVs that for me didn't quite fit in with the others, namely William's and Queen Bee's; the former I found too rambly, the latter out of place with the novel's larger narrative.
Characters aside, I'd also be remiss not to mention the role that Edinburgh as a city plays in this novel. Cliche as it is to say that "[insert city name here] is a character in the novel," it's true. Edinburgh really is one of the main characters of this story, and many of Luckenbooth's chapters conjure it up for us in vivid detail: the streets, the people, the atmosphere, the corruption.
"I have this feeling, Edinburgh will dispose of each of us once she has had her use – drank all the energy and talent and money and vitality and then she spits out the bones. Hungry city!
Subsists on human souls."
So far, so good, but there are also some things that I didn't love about Luckenbooth. I think the point-of-view chapters got weaker after Part I, which was so well done that it inadvertently set a high standard for the novel's subsequent parts–a standard which, in my opinion, they just didn't live up to (though they certainly weren't bad). Another issue I had, which is more technical, was with the dialogue. Fagan includes very little speech tags ("he said," "she said") in her writing, which means that you have to really pay attention to the dialogue to keep track of who said what. The way Fagan sets up her dialogue on the page, though, made this really difficult to do. She tries to address this issue by making the characters constantly refer to each other in their speech: so, for example, Ivy and Morag will be talking and the dialogue will just be like "what are you doing, Ivy?" and then Ivy responds "Nothing, Morag," and then a few lines later we'll get "Ivy, why are you doing that?" and "No reason, Morag," etc. It doesn't seem like a big deal, but it's one of my pet peeves when characters do this, and it becomes very glaring once you notice it. People don't usually refer to each other by name like this during conversations, so it oftentimes made the dialogue feel stilted and jolted me out of the characters' conversations.
The issues I had were minor, though, and certainly didn't overtake my enjoyment of the novel. Luckenbooth is a compelling novel in its structure, characters, and themes, but more than that, it's a really sympathetic novel, one with a lot of heart. I will definitely be watching out for whatever Jenni Fagan releases next.
Thanks so much for Simon & Schuster for providing me with an e-ARC of this via Edelweiss!
---
Blog | Goodreads | Twitter | Instagram