hello friends!! I was gonna make one big list for all my anticipated 2021 book releases, both fiction and nonfiction, but there were so many that I decided to split them into 2 posts. I just posted my Anticipated 2021 Fiction Releases list, and today I'm talking about my anticipated non-fiction releases. ENJOY!!
---
Aftershocks by Nadia Owusu (January 12)
In the tradition of The Glass Castle, a deeply felt memoir from Whiting Award–winner Nadia Owusu about the push and pull of belonging, the seismic emotional toll of family secrets, and the heart it takes to pull through.
Young Nadia Owusu followed her father, a United Nations official, from Europe to Africa and back again. Just as she and her family settled into a new home, her father would tell them it was time to say their goodbyes. The instability wrought by Nadia's nomadic childhood was deepened by family secrets and fractures, both lived and inherited. Her Armenian American mother, who abandoned Nadia when she was two, would periodically reappear, only to vanish again. Her father, a Ghanaian, the great hero of her life, died when she was thirteen. After his passing, Nadia's stepmother weighed her down with a revelation that was either a bombshell secret or a lie, rife with shaming innuendo.
With these and other ruptures, Nadia arrived in New York as a young woman feeling stateless, motherless, and uncertain about her future, yet eager to find her own identity. What followed, however, were periods of depression in which she struggled to hold herself and her siblings together.
Aftershocks is the way she hauled herself from the wreckage of her life's perpetual quaking, the means by which she has finally come to understand that the only ground firm enough to count on is the one written into existence by her own hand.
Heralding a dazzling new writer, Aftershocks joins the likes of Don't Let's Go to the Dogs Tonight and William Styron's Darkness Visible, and does for race identity what Maggie Nelson does for gender identity in The Argonauts.
---
Dog Flowers by Danielle Geller (January 12)
A daughter returns home to the Navajo reservation to confront her family's troubled history and retrace her mother's life—using both narrative and archive in this unforgettable and heart-wrenching memoir.
After Danielle Geller's mother dies of a withdrawal from alcohol during a period of homelessness, she is forced to return to Florida. Using her training as a librarian and archivist, Geller collects her mother's documents, diaries, and photographs into a single suitcase and begins on a journey of confronting her family's history and the decisions she's been forced to make, a journey that will end at her mother's home: the Navajo reservation.
Geller masterfully intertwines wrenching prose with archival documents to create a deeply moving narrative of loss and inheritance that pays homage to our pasts, traditions, heritage, the family we are given, and the family we choose.
---
Thin Places by Kerri Ní Dochartaigh (January 28)
A breathtaking mix of memoir, nature writing and social history: this is Kerri ní Dochartaigh's story of a wild Ireland, an invisible border, an old conflict and the healing power of the natural world
'A special, beautiful, many-faceted book' Amy Liptrot
'A remarkable piece of writing . . . Luminous' Robert Macfarlane
Kerri ní Dochartaigh was born in Derry, Northern Ireland, at the very height of the Troubles. She was brought up on a grey and impoverished council estate on the wrong side of town. But for her family, and many others, there was no right side. One parent was Catholic, the other was Protestant. In the space of one year they were forced out of two homes and when she was eleven a homemade petrol bomb was thrown through her bedroom window. Terror was in the very fabric of the city, and for families like Kerri's, the ones who fell between the cracks of identity, it seemed there was no escape.
In Thin Places, a mixture of memoir, history and nature writing, Kerri explores how nature kept her sane and helped her heal, how violence and poverty are never more than a stone's throw from beauty and hope, and how we are, once again, allowing our borders to become hard, and terror to creep back in. Kerri asks us to reclaim our landscape through language and study, and remember that the land we fight over is much more than lines on a map, more than housing estates and parliament buildings – it will always be ours but, at the same time, it never really was.
A "mixture of memoir, history, and nature writing"–this sounds beautiful. I'm hoping there's gonna be an audiobook narrated by the author, but audiobook or not, I'm definitely gonna be reading this one.
---
Love is an Ex-Country by Randa Jarrar (February 2)
Queer. Muslim. Arab American. A proudly Fat woman. Randa Jarrar is all of these things. In this "viscerally elegant" and "intimately edgy" memoir of a cross-country road trip, she explores how to claim joy in an unraveling and hostile America (Kirkus Reviews).
Randa Jarrar is a fearless voice of dissent who has been called "politically incorrect" (Michelle Goldberg, The New York Times). As an American raised for a time in Egypt, and finding herself captivated by the story of a celebrated Egyptian belly dancer's journey across the United States in the 1940s, she sets off from her home in California to her parents' in Connecticut.
Coloring this road trip are journeys abroad and recollections of a life lived with daring. Reclaiming her autonomy after a life of survival—domestic assault as a child, and later, as a wife; threats and doxxing after her viral tweet about Barbara Bush—Jarrar offers a bold look at domestic violence, single motherhood, and sexuality through the lens of the punished-yet-triumphant body. On the way, she schools a rest-stop racist, destroys Confederate flags in the desert, and visits the Chicago neighborhood where her immigrant parents first lived.
Hailed as "one of the finest writers of her generation" (Laila Lalami), Jarrar delivers a euphoric and critical, funny and profound memoir that will speak to anyone who has felt erased, asserting: I am here. I am joyful.
Again, I held off on requesting an ARC of this one because I'm assuming Randa Jarrar is gonna narrate the audiobook and I would love to hear her narrate her own book!! Also, this sounds great.
---
We Had a Little Real Estate Problem by Kliph Nesteroff (February 16)
From Kliph Nesteroff, "the human encyclopedia of comedy" (VICE), comes the important and underappreciated story of Native Americans and comedy.
It was one of the most reliable jokes in Charlie Hill's stand-up routine: "My people are from Wisconsin. We used to be from New York. We had a little real estate problem."
In We Had a Little Real Estate Problem, acclaimed comedy historian Kliph Nesteroff focuses on one of comedy's most significant and little-known stories: how, despite having been denied representation in the entertainment industry, Native Americans have influenced and advanced the art form.
The account begins in the late 1880s, when Native Americans were forced to tour in wild west shows as an alternative to prison. (One modern comedian said it was as "if a Guantanamo detainee suddenly had to appear on X-Factor.") This is followed by a detailed look at the life and work of seminal figures such as Cherokee humorist Will Rogers and Hill, who in the 1970s was the first Native American comedian to appear The Tonight Show.
Also profiled are several contemporary comedians, including Jonny Roberts, a social worker from the Red Lake Nation who drives five hours to the closest comedy club to pursue his stand-up dreams; Kiowa-Apache comic Adrianne Chalepah, who formed the touring group the Native Ladies of Comedy; and the 1491s, a sketch troupe whose satire is smashing stereotypes to critical acclaim. As Ryan Red Corn, the Osage member of the 1491s, says: "The American narrative dictates that Indians are supposed to be sad. It's not really true and it's not indicative of the community experience itself…Laughter and joy is very much a part of Native culture."
Featuring dozens of original interviews and the exhaustive research that is Nesteroff's trademark, We Had a Little Real Estate Problem is a powerful tribute to a neglected legacy.
---
Consent by Vanessa Springora, translated by Natasha Lehrer (February 16)
Already an international literary sensation, an intimate and powerful memoir of a young French teenage girl's relationship with a famous, much older male writer—a universal #MeToo story of power, manipulation, trauma, recovery, and resiliency that exposes the hypocrisy of a culture that has allowed the sexual abuse of minors to occur unchecked.
Sometimes, all it takes is a single voice to shatter the silence of complicity.
Thirty years ago, Vanessa Springora was the teenage muse of one of the country's most celebrated writers, a footnote in the narrative of a very influential man in the French literary world.
At the end of 2019, as women around the world began to speak out, Vanessa, now in her forties and the director of one of France's leading publishing houses, decided to reclaim her own story, offering her perspective of those events sharply known.
Consent is the story of one precocious young girl's stolen adolescence. Devastating in its honesty, Vanessa's painstakingly memoir lays bare the cultural attitudes and circumstances that made it possible for a thirteen-year-old girl to become involved with a fifty-year-old man who happened to be a notable writer. As she recalls the events of her childhood and her seduction by one of her country's most notable writers, Vanessa reflects on the ways in which this disturbing relationship changed and affected her as she grew older.
Drawing parallels between children's fairy tales and French history and her personal life, Vanessa offers an intimate and absorbing look at the meaning of love and consent and the toll of trauma and the power of healing in women's lives. Ultimately, she offers a forceful indictment of a chauvinistic literary world that has for too long accepted and helped perpetuate gender inequality and the exploitation and sexual abuse of children.
This is very high up in my anticipated non-fiction releases list. First off, the cover is STUNNING. Just absolutely gorgeous. And also Kate Elizabeth Russell blurbed it. And I just feel like this is gonna be such a powerful and important book.
---
Speak Okinawa by Elizabeth Miki Brina (February 23)
A searing, deeply candid memoir about a young woman's journey to understanding her complicated parents—her mother an Okinawan war bride, her father a Vietnam veteran—and her own, fraught cultural heritage.
Elizabeth's mother was working as a nightclub hostess on U.S.-occupied Okinawa when she met the American soldier who would become her husband. The language barrier and power imbalance that defined their early relationship followed them to the predominantly white, upstate New York suburb where they moved to raise their only daughter. There, Elizabeth grew up with the trappings of a typical American childhood and adolescence. Yet even though she felt almost no connection to her mother's distant home, she also felt out of place among her peers. Decades later, Elizabeth comes to recognize the shame and self-loathing that haunt both her and her mother, and attempts a form of reconciliation, not only to come to terms with the embattled dynamics of her family but also to reckon with the injustices that reverberate throughout the history of Okinawa and its people. Clear-eyed and profoundly humane, Speak, Okinawa is a startling accomplishment—a heartfelt exploration of identity, inheritance, forgiveness, and what it means to be an American.
---
A History of Scars by Laura Lee (March 2)
From a writer whose work has been called "breathtaking and dazzling" by Roxane Gay, this moving, illuminating, and multifaceted memoir explores, in a series of essays, the emotional scars we carry when dealing with mental and physical illnesses—reminiscent of The Collected Schizophrenias and An Unquiet Mind.
In this stunning debut, Laura Lee weaves unforgettable and eye-opening essays on a variety of taboo topics.
In "History of Scars" and "Aluminum's Erosions," Laura dives head-first into heavier themes revolving around intimacy, sexuality, trauma, mental illness, and the passage of time. In "Poetry of the World," Laura shifts and addresses the grief she feels by being geographically distant from her mother whom, after being diagnosed with early onset Alzheimer's, is relocated to a nursing home in Korea.
Through the vivid imagery of mountain climbing, cooking, studying writing, and growing up Korean American, Lee explores the legacy of trauma on a young queer child of immigrants as she reconciles the disparate pieces of existence that make her whole.
By tapping into her own personal, emotional, and psychological struggles in these powerful and relatable essays, Lee encourages all of us to not be afraid to face our own hardships and inner truths.
My Broken Language by Quiara Alegria Hudes (April 6)
A Pulitzer Prize-winning playwright tells her lyrical story of coming-of-age against the backdrop of a devastated barrio, with her sprawling, idiosyncratic, love-and-trouble filled Puerto Rican family as a collective muse.
Quiara Alegria Hudes was the sharp-eyed girl on the stairs while her family danced in her grandmother's tight South Philly kitchen, "frizzy hair cut short, bangs teased into stiff clouds, sweat glistening in the summer fog, pamper-butt babies weaving between legs." Quiara was awed by her aunts and uncles and cousins, but haunted by the secrets of the family and the unspoken stories of the barrio—even as she tried to find her own voice in the sea of language around her, written and spoken, English and Spanish, bodies and books, Western art and sacred altars. Her family became her private pantheon, a gathering of powerful orishas with tragic wounds and she vowed to tell their stories—but first she'd have to get off the stairs and join the dance; she'd have to find her langauge.
This is an inspired exploration of home, family, memory, and belonging, narrated by the obsessed girl who fought to become an artist so she could capture the world she loved in all its wild and delicate beauty.
---
Empire of Pain by Patrick Radden Keefe (April 13)
The highly anticipated portrait of three generations of the Sackler family, by the prize-winning, bestselling author of SAY NOTHING
The Sackler name adorns the walls of many storied institutions: Harvard, the Metropolitan Museum of Art, Oxford, the Louvre. They are one of the richest families in the world, known for their lavish donations to the arts and sciences. The source of the family fortune was vague, however, until it emerged that the Sacklers were responsible for making and marketing Oxycontin, a blockbuster painkiller that was a catalyst for the opioid crisis.

Empire of Pain is a masterpiece of narrative reporting and writing, exhaustively documented and ferociously compelling.
Say Nothing was my favourite non-fiction book of 2020 so this one was a no-brainer. He's such an incredible writer and I am like 99.999999% sure that I'm gonna love this.
---
Crying in H Mart by Michelle Zauner (April 20)
From the indie rockstar of Japanese Breakfast fame, and author of the viral 2018 New Yorker essay that shares the title of this book, an unflinching, powerful memoir about growing up Korean American, losing her mother, and forging her own identity.
In this exquisite story of family, food, grief, and endurance, Michelle Zauner proves herself far more than a dazzling singer, songwriter, and guitarist. With humor and heart, she tells of growing up one of the few Asian American kids at her school in Eugene, Oregon; of struggling with her mother's particular, high expectations of her; of a painful adolescence; of treasured months spent in her grandmother's tiny apartment in Seoul, where she and her mother would bond, late at night, over heaping plates of food. As she grew up, moving to the East Coast for college, finding work in the restaurant industry, and performing gigs with her fledgling band—and meeting the man who would become her husband—her Koreanness began to feel ever more distant, even as she found the life she wanted to live. It was her mother's diagnosis of terminal cancer, when Michelle was twenty-five, that forced a reckoning with her identity and brought her to reclaim the gifts of taste, language, and history her mother had given her.
Vivacious and plainspoken, lyrical and honest, Zauner's voice is as radiantly alive on the page as it is onstage. Rich with intimate anecdotes that will resonate widely, and complete with family photos, Crying in H Mart is a book to cherish, share, and reread.
Michelle Zauner is a musician who goes by the name Japanese Breakfast. I have listened to exactly one song by her–"Boyish"–so I can't really call myself a fan (it's a really great song tho!!), but this book sounds so good. Also I love this cover.
---
Everybody by Olivia Laing (May 4)
"Astute and consistently surprising critic" (NPR) Olivia Laing investigates the body and its discontents through the great freedom movements of the twentieth century.
The body is a source of pleasure and of pain, at once hopelessly vulnerable and radiant with power. In her ambitious, brilliant sixth book, Olivia Laing charts an electrifying course through the long struggle for bodily freedom, using the life of the renegade psychoanalyst Wilhelm Reich to explore gay rights and sexual liberation, feminism, and the civil rights movement.
Drawing on her own experiences in protest and alternative medicine, and traveling from Weimar Berlin to the prisons of Joseph McCarthy's America, Laing grapples with some of the most significant and complicated figures of the past century—among them Nina Simone, Christopher Isherwood, Andrea Dworkin, Sigmund Freud, Susan Sontag, and Malcolm X. Arriving at a moment in which basic bodily rights are once again imperiled, Everybody is an investigation into the forces arranged against freedom and a celebration of how ordinary human bodies can resist oppression and reshape the world.
I absolutely loved Olivia Laing's The Lonely City when I read it in 2019 and I've been anticipating this book ever since I heard that she was working on it. Olivia Laing's work is best when it's focused on a theme, just as it was in The Lonely City, so I feel like I'm gonna love this one, especially because its theme–bodies–is so compelling.
---
Pop Song by Larissa Pham (May 4)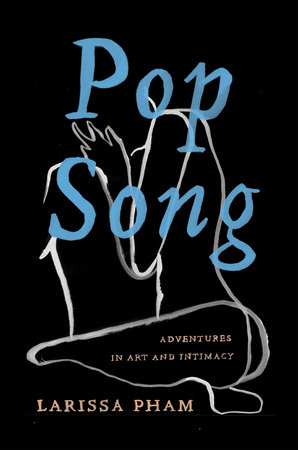 "A fresh, energetic voice with a brilliant mind to power it," brings readers an endlessly inventive, intimate, and provocative memoir-in-essays that celebrates the strange and exquisite state of falling in love—whether with a painting or a person—and interweaves incisive commentary on modern life, feminism, art and sex with the author's own experiences of obsession, heartbreak, and past trauma (Esmé Weijun Wang, New York Times bestselling author of The Collected Schizophrenias).
Like a song that feels written just for you, Larissa Pham's debut work of nonfiction captures the imagination and refuses to let go.
Pop Song is a book about love and about falling in love—with a place, or a painting, or a person—and the joy and terror inherent in the experience of that love. Plumbing the well of culture for clues and patterns about love and loss—from Agnes Martin's abstract paintings to James Turrell's transcendent light works, and Anne Carson's Eros the Bittersweet to Frank Ocean's Blonde—Pham writes of her youthful attempts to find meaning in travel, sex, drugs, and art, before sensing that she might need to turn her gaze upon herself.
Pop Song is also a book about distances, near and far. As she travels from Taos, New Mexico, to Shanghai, China and beyond, Pham meditates on the miles we are willing to cover to get away from ourselves, or those who hurt us, and the impossible gaps that can exist between two people sharing a bed.
Pop Song is a book about all the routes by which we might escape our own needs before finally finding a way home. There is heartache in these pages, but Pham's electric ways of seeing create a perfectly fractured portrait of modern intimacy that is triumphant in both its vulnerability and restlessness.
This sounds AMAZING.
---
African Europeans: An Untold History by Olivette Otele (May 4)
A dazzling history of Africans in Europe, revealing their unacknowledged role in shaping the continent

Conventional wisdom holds that Africans are only a recent presence in Europe. But in African Europeans, renowned historian Olivette Otele debunks this and uncovers a long history of Europeans of African descent. From the third century, when the Egyptian Saint Maurice became the leader of a Roman legion, all the way up to the present, Otele explores encounters between those defined as "Africans" and those called "Europeans." She gives equal attention to the most prominent figures — like Alessandro de Medici, the first duke of Florence thought to have been born to a free African woman in a Roman village — and the untold stories — like the lives of dual-heritage families in Europe's coastal trading towns.

African Europeans is a landmark celebration of this integral, vibrantly complex slice of European history, and will redefine the field for years to come.
---
Better, Not Bitter by Yusef Salam (May 18)
An inspirational memoir and call to action from prison reform activist Yusef Salaam, of the Exonerated Five, that inspires us all to turn our stories into tools for change in the pursuit of racial justice.

They didn't know who they had.

So begins Yusef Salaam telling his story. No one's life is the sum of the worst things that happened to them, and during Yusef Salaam's seven years of wrongful incarceration as one of the Central Park Five, he grew from child to man, and gained a spiritual perspective on life. Yusef learned that we're all "born on purpose, with a purpose." Despite having confronted the racist heart of America while being "run over by the spiked wheels of injustice," Yusef channeled his energy and pain into something positive, not just for himself but for other marginalized people and communities.

Better Not Bitter is the first time that one of the now Exonerated Five is telling his individual story, in his own words. Yusef writes his narrative: growing up Black in central Harlem in the '80s, being raised by a strong, fierce mother and grandmother, his years of incarceration, his reentry, and exoneration. Yusef connects these stories to lessons and principles he learned that gave him the power to survive through the worst of life's experiences. He inspires readers to accept their own path, to understand their own sense of purpose. With his intimate personal insights, Yusef unpacks the systems built and designed for profit and the oppression of Black and Brown people. He inspires readers to channel their fury into action, and through the spiritual, to turn that anger and trauma into a constructive force that lives alongside accountability and mobilizes change.

This memoir is an inspiring story that grew out of one of the gravest miscarriages of justice, one that not only speaks to a moment in time or the rage-filled present, but reflects a 400-year history of a nation's inability to be held accountable for its sins. Yusef Salaam's message is vital for our times, a motivating resource for enacting change. Better, Not Bitter has the power to soothe, inspire and transform. It is a galvanizing call to action.
I first learned about the Exonerated Five from the incredible Netflix miniseries When They See Us. After watching the miniseries I also watched an interview with the Exonerated Five and found it really powerful to listen to them talk about their own experiences. I think it's going to be even more powerful getting to hear Yusef Salaam, who was one of the Exonerated Five, tell his own story, on his own terms, in this book.
---
The Window Seat by Aminatta Forna (May 18)
A stunning new collection of essays from the award-winning author of Happiness, The Window Seat explores border crossings both literal and philosophical, our relationship with the natural world, and the stories that we tell ourselves.
Aminatta Forna is one of our most important literary voices, and her novels have won the Windham Campbell Prize and the Commonwealth Writers' Prize for Best Book. In this elegantly rendered and wide-ranging collection of new and previously published essays, Forna writes intimately about displacement, trauma and memory, love, and how we coexist and encroach on the non-human world.
Movement is a constant here. In the title piece, "The Window Seat," she reveals the unexpected enchantments of commercial air travel. In "Obama and the Renaissance Generation," she documents how, despite the narrative of Obama's exceptionalism, his father, like her own, was one of a generation of gifted young Africans who came to the United Kingdom and the United States for education and were expected to build their home countries anew after colonialism. In "The Last Vet," time spent shadowing Dr. Jalloh, the only veterinarian in Sierra Leone, as he works with the street dogs of Freetown, becomes a meditation on what a society's treatment of animals tells us about its principles. In "Crossroads," she examines race in America from an African perspective, and in "Power Walking" she describes what it means to walk in the world in a Black woman's body and in "The Watch" she explores the raptures of sleep and sleeplessness the world over.
Deeply meditative and written with a wry humor, The Window Seat confirms that Forna is a vital voice in international letters.
I read and didn't exactly love Aminatta Forna's Happiness last year, but I thought her writing was great and this collection of essays sounds like it's going to be very wide-ranging and insightful.
---
Somebody's Daughter by Ashley C. Ford (June 1)
One of the most prominent voices of her generation debuts with an extraordinarily powerful memoir: the story of a childhood defined by the ever looming absence of her incarcerated father and the path we must take to both honor and overcome our origins.
For as long as she could remember, Ashley has put her father on a pedestal. Despite having only vague memories of seeing him face-to-face, she believes he's the only person in the entire world who understands her. She thinks she understands him too. He's sensitive like her, an artist, and maybe even just as afraid of the dark. She's certain that one day they'll be reunited again, and she'll finally feel complete. There are just a few problems: he's in prison, and she doesn't know what he did to end up there.

Through poverty, puberty, and a fraught relationship with her mother, Ashley returns to her image of her father for hope and encouragement. She doesn't know how to deal with the incessant worries that keep her up at night, or how to handle the changes in her body that draw unwanted attention from men. In her search for unconditional love, Ashley begins dating a boy her mother hates; when the relationship turns sour, he assaults her. Still reeling from the rape, which she keeps secret from her family, Ashley finally finds out why her father is in prison. And that's where the story really begins.

Somebody's Daughter steps into the world of growing up a poor Black girl, exploring how isolating and complex such a childhood can be. As Ashley battles her body and her environment, she provides a poignant coming-of-age recollection that speaks to finding the threads between who you are and what you were born into, and the complicated familial love that often binds them.
---
Hola Papi by John Paul Brammer (June 8)
From popular LGBTQ advice columnist and writer John Paul Brammer comes a hilarious, heartwarming memoir-in-essays chronicling his journey growing up as a queer, mixed-race Chicano kid in American's heartland to becoming the "Picante Carrie Bradshaw" of his generation.
The first time someone called John Paul (JP) Brammer "Papi" was on the popular gay hookup app Grindr. At first, it was flattering; JP took this as white-guy speak for "hey, handsome." Who doesn't want to be called handsome? But then it happened again and again…and again, leaving JP wondering: Who the hell is Papi?
What started as a racialized moniker given to him on a hookup app soon became the inspiration for his now wildly popular advice column "¡Hola Papi!", launching his career as the Cheryl Strayed for young queer people everywhere—and some straight people too. JP had his doubts at first—what advice could he really offer while he himself stumbled through his early 20s? Sometimes the best advice to dole outcomes from looking within, which is what JP has done in his column and book—and readers have flocked to him for honest, heartfelt wisdom, and of course a few laughs.
In ¡Hola Papi!, JP shares his story of growing up biracial and in the closet against the backdrop of America's heartland, while attempting to answer some of life's toughest questions: How do I let go of the past? How do I become the person I want to be? Is there such a thing as being too gay? Should I hook up with my grade school bully now that he's out of the closet? Questions we've all asked ourselves, surely.
With wit and wisdom in equal measure, ¡Hola Papi! is for anyone—gay, straight, and everything in between—who has ever taken stock of their unique place in the world, offering considered advice, intelligent discourse, and fits of laughter along the way. As #1 New York Times bestselling author Shea Serrano says: "I loved ¡Hola Papi! I'm certain you will too."
I follow Hola Papi on Twitter and he is SO FUNNY. I have no idea what this book is about and frankly, I don't even need to know. I just know it's gonna be great.
---
Seek You: A Journey Through American Loneliness by Kristen Radtke (July 6)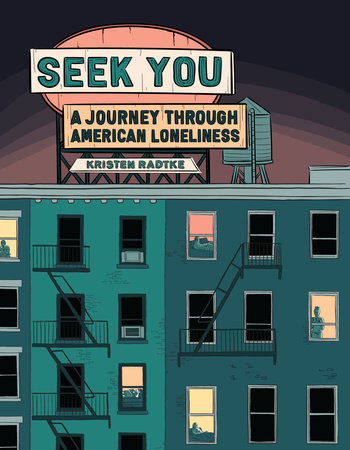 From the acclaimed author of Imagine Wanting Only This—a timely and moving meditation on isolation and longing, both as individuals and as a society.
There is a silent epidemic in America: loneliness. Shameful to talk about and often misunderstood, loneliness is everywhere, from the most major of metropolises to the smallest of towns.
In Seek You, Kristen Radtke's wide-ranging exploration of our inner lives and public selves, Radtke digs into the ways in which we attempt to feel closer to one another, and the distance that remains. Through the lenses of gender and violence, technology and art, Radtke ushers us through a history of loneliness and longing, and shares what feels impossible to share.
Ranging from the invention of the laugh-track to the rise of Instagram, the bootstrap-pulling cowboy to the brutal experiments of Harry Harlow, Radtke investigates why we engage with each other, and what we risk when we turn away. With her distinctive, emotionally-charged drawings and deeply empathetic prose, Kristen Radtke masterfully shines a light on some of our most vulnerable and sublime moments, and asks how we might keep the spaces between us from splitting entirely.
This is really reminding me of, again, Olivia Laing's The Lonely City, but in the form of a graphic novel (graphic non-fiction?). I read a gorgeous excerpt of this months and months ago in the New York Times and was so impressed and moved by Kristen Radtke's art style. This one ranks pretty high in my anticipated 2021 nonfiction releases list.
---
I Live a Life Like Yours by Jan Grue, translated by B. L. Crook (August 17)
A brilliantly rendered essayistic autobiography from an award-winning Norwegian author about life in a vulnerable body
This is not a story about survival. It is not about how I became a human, but rather how I came to understand that I already was human. I am writing about everything I wanted and how I came to be in possession of it. I am writing about what this cost me, and how I was able to afford it. This is an attempt to write off the language of others . . . I began writing because I needed a language different from the one available to me.

Jan Grue was diagnosed with spinal muscular atrophy at the age of three. Shifting between specific periods of his life—his youth with his parents and sister in Norway; his years of study in Berkeley, St. Petersburg, and Amsterdam; and his current life as a professor, husband, and father—he intersperses these histories with elegant, astonishingly wise reflections on the world, social structures, disability, loss, relationships, and the body: in short, on what it means to be human. Along the way, Grue moves effortlessly between his own story and those of others, incorporating reflections on philosophy, film, art, and the work of writers from Joan Didion to Michael Foucault. He revives the cold, clinical language of his childhood, drawing from a stack of medical records that first forced the boy who thought of himself as "just Jan" to perceive that his body, and therefore his self, was defined by its defects.

When the Child Was a Child is a love story. It is rich with loss, sorrow, and joy, and with the details of one life: a girlfriend pushing Grue through the airport and forgetting him next to the baggage claim; schoolmates forming a chain behind his wheelchair on the ice one winter day; his parents writing desperate letters in search of proper treatment for their son; his own young son climbing into his lap as he sits in his wheelchair, only to leap down and run away too quickly to catch. It is a story about accepting one's own body and limitations, and learning to love life as it is while remaining open to hope and discovery.
---
Seeing Ghosts by Kat Chow (August 24)
For readers of Helen Macdonald and Elizabeth Alexander, an intimate and haunting portrait of grief and the search for meaning from a singular new talent as told through the prism of three generations of her Chinese American family.
Kat Chow has always been unusually fixated on death. She worried constantly about her parents dying—especially her mother. A vivacious and mischievous woman, Kat's mother made a morbid joke that would haunt her for years to come: when she died, she'd like to be stuffed and displayed in Kat's future apartment in order to always watch over her.
After her mother dies unexpectedly from cancer, Kat, her sisters, and their father are plunged into a debilitating, lonely grief. With a distinct voice that is wry and heartfelt, Kat weaves together a story of the fallout of grief that follows her extended family as they emigrate from China and Hong Kong to Cuba and America. Seeing Ghosts asks what it means to reclaim and tell your family's story: Is writing an exorcism or is it its own form of preservation? The result is an extraordinary new contribution to the literature of the American family, and a provocative and transformative meditation on who we become facing loss.
---
Fifty Sounds by Polly Barton (August 24)
A paean to the transformative powers of language-learning from the winner of the 2019 Fitzcarraldo Editions Essay Prize.
In this dazzling debut, Polly Barton reflects on her experience of moving to the Japanese island of Sado at the age of twenty-one and on her journey to becoming a literary translator. Written in fifty semi-discrete entries, Fifty Sounds is a personal dictionary of the Japanese language that draws together a variety of cultural reflections – from conformity and being an outsider, to the gendering of Japanese society, and attitudes towards food and the cult of 'deliciousness' – alongside probing insights into the transformative powers of language-learning. Candid, humane, witty and wise, Fifty Sounds is remarkable work that takes a transparent look at language itself, lifting the lid on the quietly revolutionary act of learning, speaking, and living in another language.
This is another non-fiction release that is at the very top of my list. Polly Barton has translated one of my favourite Japanese novels–Where the Wild Ladies Are by Aoko Matsuda–and one of my most anticipated Japanese novels–There's No Such Thing As An Easy Job–(and many more) and so when I found out she had her own book coming out I slammed that "to read" button so fast. And this is not just any collection of essays–it's a collection of essays about her experience as a literary translator (!!!!!!), which is SO FASCINATING to me. I feel like we don't talk enough about literary translators and the work that they do, so I'm super looking forward to reading this.
---
I hope you found something that interested you from this list!! I'm gonna be listening to so many nonfiction audiobooks this year, and I can't wait.
---